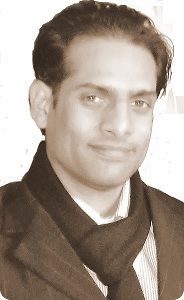 Namaste! I am Sundar Sharma. My wife Oshin and I manage Sunrise Pashmina's operations in Nepal. We'll try our best to provide you with the perfect pashmina... or anything else you need in Kathmandu. Please visit us at our showroom in Lazimpat.

Sunrise Pashmina is the best online source for authentic cashmere shawls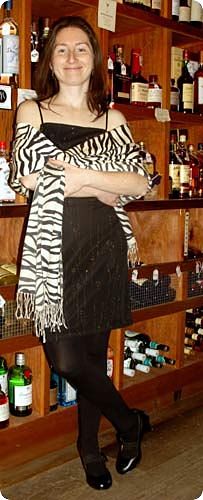 70% pashmina/30% silk medium-size
pashmina shawl with Zebra print.
Photos of pashmina shawls with prints
In all modesty, we have
the finest quality pashmina shawls
incredible selection
attentive service
scrumptious presentation
speedy delivery ... and flat-rate shipping ($14.50 for any number of pieces)... anywhere in the world
You'll adore us! Why you should buy your pashmina shawl from Sunrise

"What's the fuss?"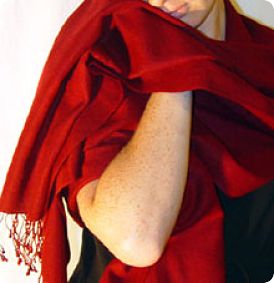 70% pashmina/30% silk full-size shawl.
Larger photos of pashmina shawls
If you think that pashmina is pashmina is pashmina, let us break the news: there are five different qualities of "pashmina" yarn available to shawl producers in Kathmandu.
Most of the so-called pashmina shawls being exported from Nepal and India these days are made from adulterated yarn. If you haven't experienced premium quality pashmina, then you're in for a treat!

What is pashmina, anyway?
Pashmina is just the indigenous word for cashmere, a fabric woven from the wool of certain high-elevation domestic goats. The term cashmere was applied by European colonialists to this fabric because it was known primarily as a product of Kashmir, the disputed territory in northwest India.
More about pashmina
Another client "BLOWN AWAY"
I AM BLOWN AWAY by these shawls. By the quality, exact color, packaging, embroidered message and not the very least the lovely card you put in every package. Amazing!!! Your personal touch does not go unnoticed Sundar! Thank you for the muffler gifts for Jacqueline and I also with sweet notes!! They arrived exactly to my front door when you said they would. I'm impressed!!! I cannot thank you enough for your excellent & expedient customer service.
You're the best.
Warmest wishes from Houston.
Will send you pics of the bridesmaids with shawls at wedding in Mexico.
ML
[PS] Delighted to have you post [my message on your Web site] and if anyone needs a reference they are welcome to email me. I went on my gut feeling with you as it is somewhat worrisome to buy off unknown site. But I trusted you and you did not fail me. Thx Seth. Houston, TX
Email us at seth@sunrise-pashmina.com if you want to write to ML. For more fan mail (bet you can't read just one!), check out our Fan Mail page.
We're here for you!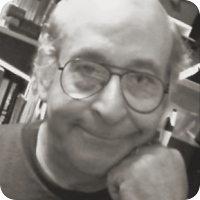 Hi! I'm Seth Sicroff,
Internet Marketing Director. Call me any time at (607) 256-0102, or email me at seth@sunrise-pashmina.com.
No voice-mail menus. And we won't leave you listening to an endless loop of What are you doing the rest of your life?
No hard sell. If we don't have what you want, or can't get it to you in time, we'll tell you right off.
We realize that this is an expensive and complicated purchase. Colors, size, fabric blend, embroidery, yada-yada-yada... Let's talk about it.
We have native speakers of English and Spanish, and our French is pretty good. We'll even take a stab at German or Italian. If you contact us by email
(seth@sunrise-pashmina.com), we can handle nearly any language.
Call us at (607) 256-0102. Night or day. If we can't answer immediately, we'll get back to you. Soon. Or email us at seth@sunrise-pashmina.com
And we won't leave your pashmina hanging, either!
We have the most and the best information about how to wear a pashmina and how to wash your shawl. (Hint: you don't want to get taken to the cleaners, do you?)
First-time Sunrise shopper?
Mystified by the welter of verbiage and customization options? We've got a special page dedicated to the demystification of our own Web site: Advice for First-Time Shoppers.
Shopping for Pashmina in Kathmandu? Looking for a Wholesale Provider of Pashmina?
If you're visiting Kathmandu, Sundar and Oshin are a great resource. They've got a new showroom in Lazimpat, just north of Thamel, and they are eager to meet our customers. They can sell you pashmina goods at the same prices they give us. If you're interested in setting up your own import-export business, they'll help you find the best producers and also explain how to handle all the logistics. They are both avid meditators, and can help you find instruction in yoga and a variety of spiritual pursuits. And, as noted above, they have a background in tourism promotion and environmental management. If you've got a project, they'd like to hear about it. Contact Sundar at his showroom on 201 Lazimpat, near the Shangrila Hotel; it's probably best to call him first (244-3322; cell 985 1072595) or email him at sundar@sunrise-pashmina.com.
By the way, we've got quite a few articles about Nepal and pashmina on Wandering Educators, the award-winning travel blog, including Shopping for Pashmina in Kathmandu. which has advice on quality and pricing.
You say pashima, we say pashmina...
How many ways can this word be misspelled? Here are a few that we've seen: pashminar, pashmine, pasmina, passmina, paskmina, pashminah, pachimina, pasmeena, pasnima, pasimina, pachema, pachimina, pasminah, pashminia, bashmina, pamina, bashmeena, pasima, pashima, pachima, pashimina, paschmina, puhseema, pasichma, phasmina, pasmin, pacmina, passmeena, spashmina, peshmina, peshimina, pamina, poshminia, posmina, phasmina, pahsmina ...
We don't really care how you spell it. We're just listing these so that if someone googles one of them, we've got an edge over those hardline companies that recognize only one "correct" spelling.

Products and Prices
Considering that our shawls are the absolute best quality, our prices are pretty low. For instance, our fullsize 100% pashmina shawls (95 x 203 cm) (36" x 80") are $150, including assorted freebies. Shipping is only $14.50 for DHL express: that's a flat rate, no matter how many pieces you order. More about Size and Fabric

For full details, visit our Printable Summary page or go directly to the Order page.
For the Pashmina Printsess...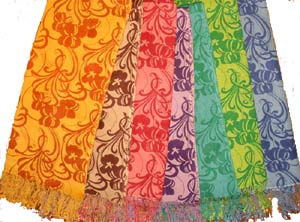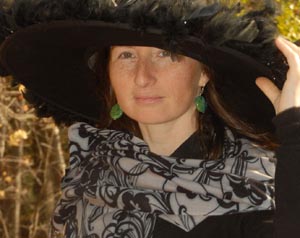 We've got PRINTS!. New designs, available in any color combination.


Wrap yourself in a rainbow with Ombre gradient-dying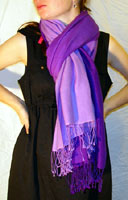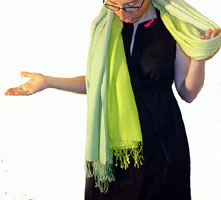 Ombre two-tone dying, fading from one color at one side (or end) to another at the opposite side (or end). Available for fullsize or medium size wraps for a $13 supplement. See Ombre page.
Meditation or Travel Blankets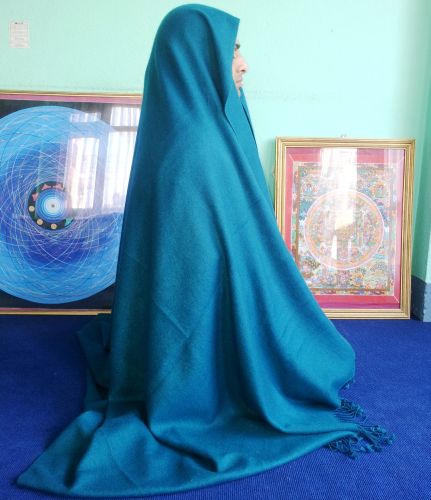 Special services
In a rush? Consider a Gift Certificate ... or a Belated Delivery Notice. Chic, considerate, guaranteed to win points!
Real Fan Mail!
These have come in recently, and reflect the continued standards of excellence at Sunrise:
"I wanted to purchase a quality, genuine shawl and did some research. My investigations led me to Sunrise pashminas ..." Read the full letter
"The shawl arrived on Friday and is perfect! The color is just what I imagined, it's soft and warm, and beautifully loomed. Just like my old Sunrise Pashmina! You have a customer for life." Read the full letter
"very delicate and airy but I can tell it will be warm..." Read the full letter