Valentine's Day is around the corner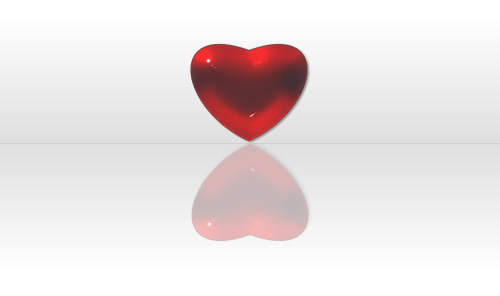 We've got nothing against chocolate, or roses, or singing greeting cards. Guys do try hard, and it's hard to know what will work when you're born with no color gene. So why not just get the pashmina(s) you really want, so everybody can relax. And maybe a muffler for him?
By the way, we do realize that Halloween is long gone, but we really love our monster models (below). We'll retire them ... soon.
Muffler Madness!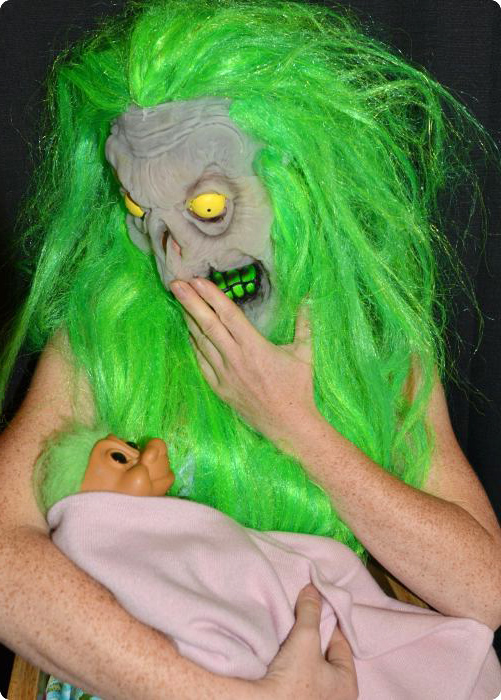 We have new stocks of shawls, baby blankets, and mufflers. And our mufflers are on sale at 30% discount.
Shop now in our redesigned boutique.

Sunrise Pashmina is the best online source for authentic cashmere shawls
In all modesty, we have
the finest quality pashmina shawls
attentive service
scrumptious presentation
speedy delivery ... and flat-rate shipping ($14.50 for any number of pieces)...
anywhere in the world
You'll adore us!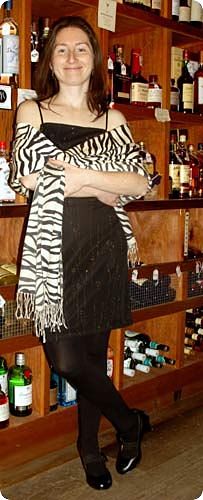 70% pashmina/30% silk medium-size
pashmina shawl with Zebra print.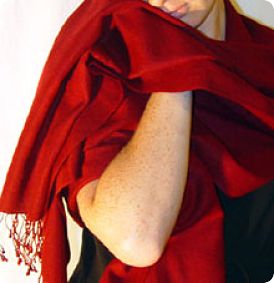 70% pashmina/30% silk full-size shawl.
Larger photos of pashmina shawls

"What's the fuss?"
If you think that pashmina is pashmina is pashmina, let us break the news: there are five different qualities of "pashmina" yarn available to shawl producers in Kathmandu.
Most of the so-called pashmina shawls being exported from Nepal and India these days are made from adulterated yarn. If you haven't experienced premium quality pashmina, then you're in for a treat!

What is pashmina, anyway?
Pashmina is just the indigenous word for cashmere, a fabric woven from the wool of certain high-elevation domestic goats. The term cashmere was applied by European colonialists to this fabric because it was known primarily as a product of Kashmir, the disputed territory in northwest India.
20 Myths about pashmina
Pashmina is different from, and better than, cashmere.
Pashmina wool is plucked only from the undercoat of the throat and chest of the animal.
Pashmina is produced only by a special goat known as Capra hircus.
Pashmina is produced only in the high Himalayas.
A fullsize pashmina is too big for a petite woman.
In pashmina, more plies is better.
Water pashmina is a special, highly luxurious, type of pashmina.
Real pashmina is produced only in Kashmir.
True Nepalese pashmina, known as chyangra pashmina, is different and better than ordinary pashmina.
Pashmina should only be dry cleaned.
In pashmina, as in all luxury goods, you get what you pay for.
Real pashmina must have twisted and knotted tassels.
Machine-loomed pashmina is superior to hand-loomed pashmina.
Hand-loomed pashmina is superior to machine-loomed pashmina.
High-quality pashmina doesn't pill.
The best quality pashmina is fluffy like a kitten.
The best quality pashmina at the best price is found in Kathmandu.
Ritzy New York department stores can be trusted to have the best quality pashmina.
100% pashmina means pure pashmina.
A sewn-on tag is proof of pashmina quality.
No???? Find out the truth about pashmina.
You say pashima, we say...
How many ways can this word be mispronounced and misspelled? Here are a few that we've seen: pashminar, pashmine, pasmina, passmina, paskmina, pashminah, pachimina, pasmeena, pasmira, pasmeera, pasnima, pashema, pasimina, pachema, pachimina, pasminah, pashminia, bashmina, pamina, bashmeena, pasima, pashima, pachima, pashimina, paschmina, puhseema, pasichma, phasmina, pasmin, pacmina, passmeena, spashmina, peshmina, peshimina, pamina, poshminia, posmina, phasmina, pahsmina ...
We don't really care how you spell it. We're just listing these so that if someone googles one of them, we've got an edge over those hardline companies that recognize only one "correct" spelling.
We're here for you!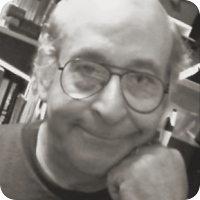 Hi! I'm Seth Sicroff,
owner of Sunrise Pashmina. Call me any time at (607) 256-0102, or email me at
seth@sunrise-pashmina.com.
No voice-mail menus. And we won't leave you listening to an endless loop of What are you doing the rest of your life?
No hard sell. If we don't have what you want, or can't get it to you in time, we'll tell you right off.
We realize that this is an expensive and complicated purchase. Colors, size, fabric blend, embroidery, yada-yada-yada... Let's talk about it.
We have native speakers of English and Spanish, and our French is pretty good. We'll even take a stab at German or Italian. If you contact us by email
(seth@sunrise-pashmina.com), we can handle nearly any language.
Call us at (607) 256-0102. Night or day. If we can't answer immediately, we'll get back to you. Soon. Or email us at
seth@sunrise-pashmina.com
And we won't leave your pashmina hanging, either!
We have the most and the best information about how to wear a pashmina and how to wash your shawl. (Hint: you don't want to get taken to the cleaners, do you?)

Shipping
Orders will be shipped on the next business day, and in some cases on the day we receive them. Within the United States, shawls will be shipped by Priority Mail, which takes two or three days; outside the U.S., first-class mail takes about a week to ten days. Alternative means of delivery may be arranged, and will be billed at the actual cost.

Fan Mail!
Another client "BLOWN AWAY"
I AM BLOWN AWAY by these shawls. By the quality, exact color, packaging, embroidered message and not the very least the lovely card you put in every package. Amazing!!! Your personal touch does not go unnoticed! Thank you for the muffler gifts for Jacqueline and I also with sweet notes!! They arrived exactly to my front door when you said they would. I'm impressed!!! I cannot thank you enough for your excellent & expedient customer service.
You're the best.
Warmest wishes from Houston.
Will send you pics of the bridesmaids with shawls at wedding in Mexico.
ML
[PS] Delighted to have you post [my message on your Web site] and if anyone needs a reference they are welcome to email me. I went on my gut feeling with you as it is somewhat worrisome to buy off unknown site. But I trusted you and you did not fail me. Thx Seth. Houston, TX
Email us at seth@sunrise-pashmina.com if you want to write to ML. For more fan mail (bet you can't read just one!), check out our Fan Mail page.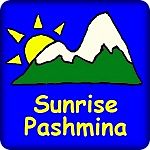 Sunrise Pashmina
Internet distribution office:
511 W. Green St., Ithaca, NY 14850 USA
Call us at (607) 256-0102. Night or day.
If we can't answer immediately, we'll get back to you. Soon.
Or email us at seth@sunrise-pashmina.com
hs