Uh-oh...

How to wash a Pashmina Shawl
Shower yourself with Affection
The best way to care for you pashmina is to give it a break. Sure, black goes with everything, but why not squeeze a few more options into that cavernous walk-in closet? We can match your sunglasses, your shoes, your lipstick, your mood...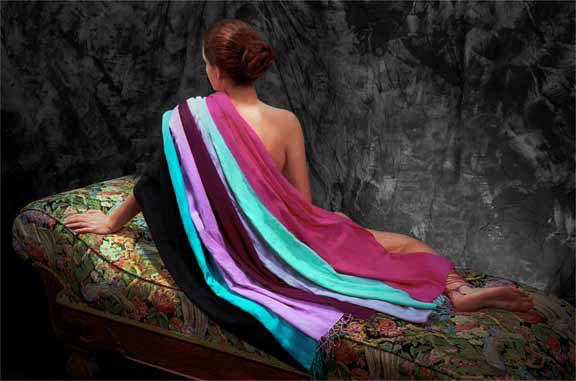 Don't leave yourself with nothing to wear while your old warhorse slowly dries in the bathroom.
Photo by Stevie Wilson for
Privilege
magazine. (Those are OUR shawls!!)
Shower your pash with Affection
Some of you have asked why we don't put "Dry Clean Only" tags on our pashmina shawls, like the Big Names do. Well, first of all, we think tags look tacky. Secondly, it's easy to damage the shawl in the process of removing a tag. And third, pashminas can be washed by hand. More to the point, dry cleaning can be pretty tough on pashminas!
Now, before we get into this, we must insist that we have no particular expertise in laundering anything, and certainly will take no responsibility for any contretemps. In fact, some of us don't even separate whites and colors. But we have asked around quite a bit, and here is what we got from our most knowledgeable sources.
Naturally, getting clean involves a 12-Step Method. Don't skip steps!!
1. Clean your bathtub thoroughly. Plug the drain.
2. Lay the pash flat, folded as necessary, depending on the size of your tub.
3. Using a hand-held shower, soak the shawl with lukewarm or cool water.
4. Squirt the shawl with a moderate amount of neutral detergent. Baby shampoo is okay.
5. Pat and squush the shawl to make sure the soap penetrates the entire piece.
6. Let it soak for 15 minutes.
7. Unplug the bathtub and let the water drain away.
8. Using the hand-held shower, rinse the pashmina thoroughly.
9. Remove the pashmina from the bathtub, and fold it small enough to fit into a large ziplock plastic bag.
10. Seal the bag and shake for a couple of minutes.
11. Remove the pashmina from the bag and lay it on a fresh, dry towel. Allow to blot for 15 minutes.
12. Push aside the shower curtain and hang unwrinkled from the shower rod. Allow to dry thoroughly.

Love your pashmina shawl? You'll be crazy about a Pashmina Poncho!
See our Poncho page for more information and photographs.




NEW!

PASHMINA PONCHO
(71 x 71 cm; 28 x 28");
machine knit, 28/2-count yarn.
Plush, toasty, cumfy.

100% pashmina regular size poncho: $138
.

70% pashmina/30% silk regular size poncho: $128
.