Although we here in Ithaca, NY, handle Internet distribution for Sunrise Pashmina, we are happy to assist others who wish to market Sunrise shawls, jewelry, or other Nepalese handicrafts. (You may even sell by Internet, provided you do not use the brand name Sunrise.) Sundar Kumar Sharma, our partner in Kathmandu, will give you the same prices that he gives us. To get started, just send him an email at sundar@sunrise-pashmina.com and make your own arrangements with him. He is extremely reliable, honest, friendly, helpful, and getting pretty good with colors.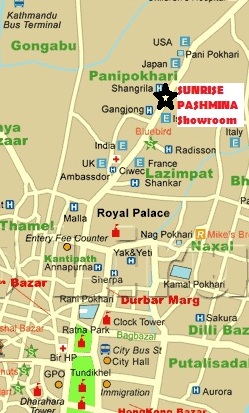 In country?
If you're visiting Kathmandu, Sundar and Oshin are a great resource. They've got a new showroom in Lazimpat, just north of Thamel, and they are eager to meet our customers. They can sell you pashmina goods at the same prices they give us. If you're interested in setting up your own import-export business, they'll help you find the best producers and also explain how to handle all the logistics. They are both avid meditators, and can help you find instruction in yoga and a variety of spiritual pursuits. And, as noted above, they have a background in tourism promotion and environmental management. If you've got a project, they'd like to hear about it. Contact Sundar at his showroom on 201 Lazimpat, near the Shangri-La Hotel; it's probably best to call him first (244-3322; cell 9851072595) or email him at sundar@sunrise-pashmina.com
Caveats
Note, however, that in dealing with Sundar you will have to define the terms of your agreement: he will ship directly to you, you will pay him in advance by Moneygram or bank transfer (or some other mutually agreeable instrument), and you should not necessarily expect the kind of iron-clad guarantee that we offer. He simply can't afford to exchange merchandise because of changing color preference, for example. If you send a pashmina back to him, he will have to pay customs duty that is higher than his selling price! So be sure you know what you want, and maybe order in limited quantity at first.
Shipping
Air cargo is much cheaper than courier or express -- generally about $7/kg -- but you will have to deal with customs. Duty on pashmina in most countries is not very high, but unless you live near an airport you will probably have to pay a customs agent to take care of it. If you are going through JFK airport, we recommend Singapore airlines.
Please note: Sunrise Pashmina does not supply hard-copy catalogs, and it does not provide free samples.
Sunrise Pashmina Internet distribution office:
511 W. Green St., Ithaca, NY 14850 USA
Call us at (607) 256-0102. Night or day. If we can't answer immediately, we'll get back to you. Soon.
Or email us at info@sunrise-pashmina.com