Pashmina -- for the totally non-no-frills wedding
The sun peeks out for a brief blaze of glory just as the newly-shackled couple clambers into the limousine. Everyone heads toward the lakeside reception, and a breeze kicks up. The bridesmaids [ More... ]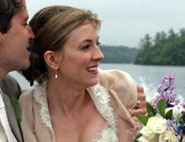 Something special for the honeymoon cruise...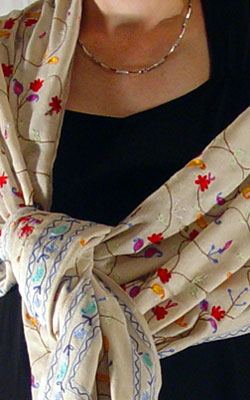 Get your Bridal Discount here!
Well, not really here... You have to place your order at the regular place (click on any Order link). If your order comes to $300 or more and includes at least 3 identical pieces, we will automatically take a 10% discount off your order, and give you free DHL delivery, in addition to free tote bags, free earrings, and free mini-purses. ("Automatically" means you don't have to ask.) Beautiful packing, ready for presentation to your bridesmaids.

What color should I order?
We would strongly recommend you not try to match your dress color exactly. For one thing, the shawl will obscure the lines of your gown, and make life miserable for your photographer. Also, it is hard to get an exact match of any color, and a slight difference will create eyestrain as your guests try to make sense of the inconsistency. Finally, we can't do bright white -- no one can, unless they bleach the heck out of the fiber, which has the same general effect on the fiber as Clorox would have on your hair. We recommend a modest contrast -- beige or cornflower against an ivory dress, for example.
Size? Blend?
For the petite, we recommend a medium shawl. The 70/30 pashmina-silk blend is most popular, except where price is no object. (But, when you consider how much your maids are spending on gowns they'll probably never wear again, maybe they deserve the ultraposh option?)
Fancy stuff?
Okay, we know next-to-nothing about haut-de-gamme stylistics, BUT... We're not crazy about beaded fringes... they seem a bit Haight-Ashbury, don't they? On the other hand, we are sort of fond of full-surface embroidery, particularly the Kanya Devi. If you give us enough time, we can work out a really fancy version, tricked out with beaded or sequined accents to match your floral theme. For a regal but not-quite-gaudy touch, we also recommend gold-thread emparata borders on ivory or cream -- or whatever color might complement the bride's maids' dresses.
With apologies to the Hindus among us, we strongly advise against heavy use of medium reds, simply because they tend to blow out the sensors on digital images.
When do I need to order?
Unless you want special customization, ten days is usually sufficient. However, when the stakes are so high, we recommend ordering a month in advance. Then you'll have one less thing to worry about.