Shopping for Pashmina in Kathmandu?
If you're visiting Kathmandu, Sundar and Oshin are a great resource. They've got a new showroom in Lazimpat, just north of Thamel, and they are eager to meet our customers. They can sell you pashmina goods at the same prices they give us. If you're interested in setting up your own import-export business, they'll help you find the best producers and also explain how to handle all the logistics. They are both avid meditators, and can help you find instruction in yoga and a variety of spiritual pursuits. And, as noted above, they have a background in tourism promotion and environmental management. If you've got a project, they'd like to hear about it. Contact Sundar at his showroom on 201 Lazimpat, near the Shangrila Hotel; it's probably best to call him first (244-3322; cell 985 1072595) or email him at sundar@sunrise-pashmina.com.
By the way, we've got another article on Wandering Educators, the award-winning travel blog. If the article is no longer on the front page, you can find it archived under the titleShopping for Pashmina in Kathmandu.
New How-to-Wear Link
One of our many many competitors, Very Pashmina, has a new how-to-wear-pashmina video clip on YouTube.
She LOVES us. She really loves us!
Okay, maybe some of you don't remember Sally Fields' Oscar gusher, and anyway she didn't really say You like me, you really like me!, and that was the Oscars and we're talking about the Golden Globes here, not that there's anything wrong with that, cause really, the foreign critics know movies -- scratch that, films -- better than all those swag-wooed Academy of Motion Picture Arts and Sciences members, don't they?, but here's the thing, we just got a fan letter from a genuine movie star, Irene Miracle, whose credits include Midnight Express (what?? you haven't seen that? better put it on your Netflix queue right now!) and if that isn't reason enough to order immediately... uhm... well, check it out, anyway.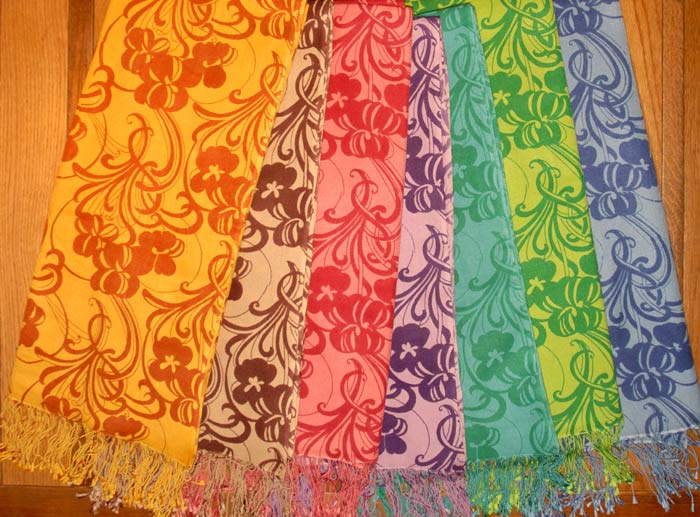 This Tyokeho panoply is just a representative sampling of the color combinations you can select.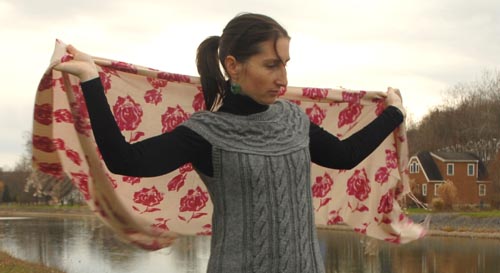 Sundari design (above), like the Foliana (below), available in any color combination.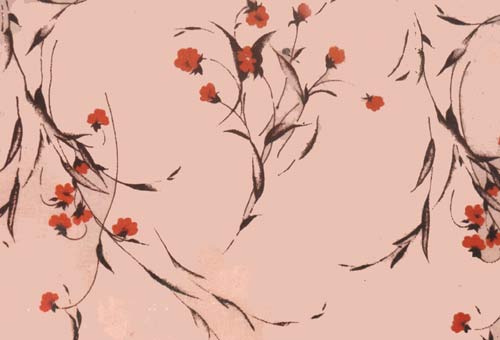 [
More
]
Fly much?
These days, a lot of airlines make you pay for the blanket and pillow. Which, in a way, is not such a bad thing, since they probably haven't been washing them between uses. Renowned travel guru Peter Greenberg says that the free ones were basically a science experiment at the Centers for Disease Control:
If you've seen those blankets, first of all they look like they're fire hazards, second of all they don't keep you warm, and third of all, who knows what's on those blankets? If we ever took the black-light test on those blankets, it would be wild. [from When Nickel-and-Diming Pays Off ]
So... pack your pash. It's warm, schleppable, and you know what kind of company it's been keeping.
---
Sunrise Pashmina's Internet distribution office:
511 W. Green St., Ithaca, NY 14850 USA
Call us at (607) 256-0102. Night or day.
If we can't answer immediately, we'll get back to you. Soon.
Or email us at info@sunrise-pashmina.com