Pashminas for Special Occasions

(Consider a Gift Certificate.
It's the gift of creativity.)
Flying?
These days, a lot of airlines make you pay for the blanket and pillow. Which, in a way, is not such a bad thing, since they probably haven't been washing them between uses. Renowned travel guru Peter Greenberg says that the free ones
were basically a science experiment at the Centers for Disease Control. That was bacteria on parade. If you've seen those blankets, first of all they look like they're fire hazards, second of all they don't keep you warm, and third of all, who knows what's on those blankets? If we ever took the black-light test on those blankets, it would be wild. [from Peter Greenberg's "When Nickel-and-Diming Pays Off" ]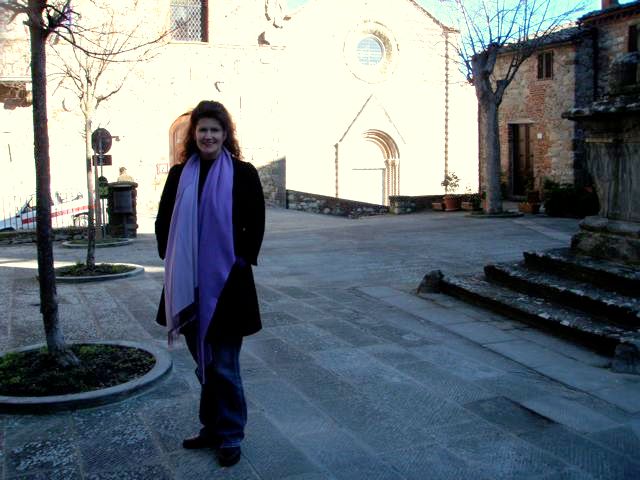 Ombre Sunrise in Tuscany
How about a Gift Certificate?
Fashion is a very personal thing. Even if you are sure you know exactly what she wants (which you probably don't), you might want to let her design the shawl herself. It's fun for her, and she'll appreciate you're being aware that nobody does it better ...than her.
Need to buy some time?
Consider the advantages of a Certificate of Belated Delivery! You place an order, and if there's no chance (or a small chance) of its arriving on time, we can email you a ready-to-print CBD, giving as much or as little information about the impending gift as you wish to share. For instance, you could order an embroidered, ombre, beaded shawl and just tell her that it's a "fancy pashmina wrap." That way she's still surprised when it arrives. And you get credit twice!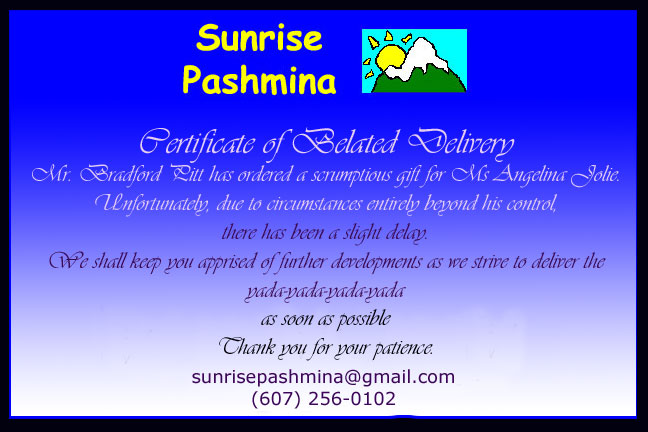 ---
[ Forget gifts! I'm ready to order a shawl for myself!]
---
Sunrise Pashmina Internet distribution office:
511 W. Green St., Ithaca, NY 14850 USA
Call us at (607) 256-0102. Night or day.
If we can't answer immediately, we'll get back to you. Soon.
Or email us at sunrisepashmina@gmail.com