Sunrise Pashmina's Guarantee: Absolute satisfaction or your money back!*
*(Well... maybe you'd better read the small print.)
The following table summarizes the cost of uncustomized Sunrise products according to size and fabric. (Fringe style does not affect price, except if beading is required.) Prices are going up soon.
FABRIC
Fullsize
Shawl
95 X 203 cm
(36" x 80")
Medium
Shawl
70 x 203 cm
(28" x 80")
Compact
Muffler
30.5 x 152.5 cm
(12" x 60")
Oversize
Muffler
35 x 183 cm
(14" x 72")
Baby Blanket
91 cm x 91cm
(36" x 36")
double-weight 100% pashmina
100% pashmina
$130
$120
$35
$43
$84
70% pashmina/
30% silk
$95
$85
$30
$38
N/A
50% pashmina/
50% silk
$85
$75
N/A
N/A
N/A
SIZE
Pashmina shawls are customarily quite large. Even Asian women, who are typically rather small, wear fullsize shawls quite comfortably; because of the light weight of the fabric, the shawls can easily be folded lengthwise and/or widthwise, so that the generous dimensions are never a liability.
We have two sizes of shawl:

fullsize [95 cm x 203 cm; 36" x 80" (3 feet by 6.7 feet)]
medium [70 cm x 203 cm; 28" x 80" (2.3 feet by 6.7 feet)]

Mufflers come in two sizes. The compact muffler is a smallish dressy scarf, suitable for men or women:
[30.5cm x 152.5cm; 12" x 60" (1 foot x 5 feet)]. The oversize muffler (35 x 183 cm; 14" x 72") is 20% wider and 20% longer -- in all, 44% bigger than the compact.
The baby blanket is a square about half as big as the full-size shawl:
[91 cm x 91cm; 36" x 36" (3 feet by 3 feet)]
In the image below, Laxmi (an average size Nepali woman) is shown with rectangular figures representing our various size wraps drawn to scale. The silhouettes are lined up on the top, which makes it a bit to interpret. Note that the full-size is the same length as the medium-size, but about 22% narrower.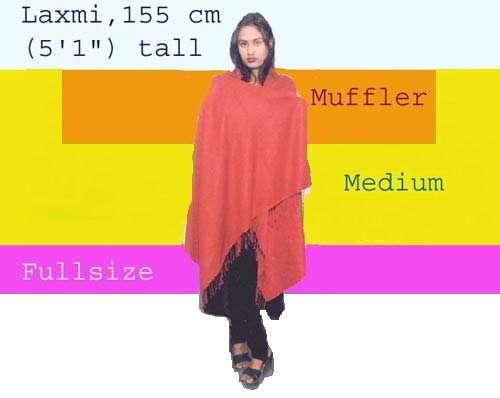 FABRIC
There are two factors, here: blend and density. (Please bear with us!)
Blend: Pashmina is not a term that has a legally-recognized definition in European or American law, and the word is used inconsistently. Reputable dealers use the term to refer to the fine undercoat of a high-altitude breed of domestic goat -- in other words, cashmere. Some maintain that pashmina is better than ordinary cashmere, but there is no substance to this claim.
To complicate matters, the word pashmina is commonly used to refer to cashmere-silk blends of varying proportions, and sometimes even to pashmina-style shawls made of sheeps' wool, cotton, and even synthetic fabrics. Worse, there are many so-called pashminas that are made of adulterated fiber, most often merino sheep wool, which is cleverly treated to remove the microscopic scales so that it more closely resembles goat wool.
At Sunrise Pashmina, we sell accessories that are either pure cashmere or blends of silk and cashmere. Admittedly, we are using the word pashmina in two different senses, but we do our best to avoid confusion.
"Superfine Pumori weave, 100% pashmina" (120-count, diamond weave). This is a particularly sheer fabric, much lighter than our conventional 100% pashmina, shown below, definitely not for someone who appreciates a hefty shawl. The photo at right is a detail of the photo at left. Due to the tight weave, this fabric is labor-intensive and it costs a bit more.

Click on either photo for a larger image.

100% pashmina shawl, single ply, basic (square) weave.
Note the relatively open weave, as compared with tighter weave of pashmina-silk blends.
Click for larger image.
Here's are our more conventional weaves: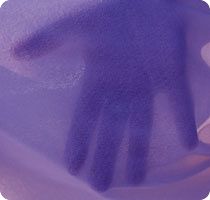 100% shawl. Click for larger image.
100% pashmina is a rather loose weave, extremely soft, with a puffy buttery feel. We use 28/1 pashmina yarn both for the weft (sideways thread) and warp (lengthwise thread). The reason the weave is loose (compared to the 70/30 and 50/50 silk blends) is that the pashmina warp threads cannot be subjected to the same high tension as silk. Pure pashmina is purportedly the softest and warmest [legal] fabric. Tends to cling a bit, as compared with the heavier silk blends. Pure pashmina is not compatible with beading or embroidery.
70% pashmina/30% silk is the international trend-setter, combining the warmth of cashmere wool and the durability of silk. Many people believe that the fiber itself is a blend of cashmere and silk. In fact, the weft (sideways) threads are the same 28/1 cashmere as in the 100% pashmina shawl, while the warp (lengthwise threads) are 210-grade silk -- which is comparable to a very fine human hair. Due to the silk, which is much more dense than the pashmina, the blended shawls have a more elegant drape, and can support beading and embroidery. They also have a bit of a sheen, and are not as likely to snag. On the other hand, they are nowhere near as soft, and for their weight they are not nearly as warm as the pure pashmina shawl.
50% pashmina/50% silk looks quite similar to the 70/30 blend, but is a bit more robust due to the use of the slightly heavier 140-grade silk. Compared side-by-side, the 70/30 is distinctly softer than the 50/50.
Fabric Density
To begin with, the term ply refers to a distinct thread that may or may not be twisted together with one or more similar threads to form a thicker thread. Single-ply is a fabric made with elemental threads ; double-ply or two-ply fabrics are made with double-twisted threads (at least in the weft, but presumably sometimes also in the warp).
To be clear, very very few (and perhaps none) of the current shawl producers in Kathmandu are using true double-ply yarn. In fact, multiple-ply yarn is now used almost exclusively for knitted goods.
[Okay, this is embarrassing!] We who manage Internet distribution for Sunrise Pashmina have been unaware, until recently, that shawl producers in Nepal have been using an adjustment of paddles in the loom to control fabric density rather than actual double-ply yarn. What we have been marketing as double-ply shawls are actually four-paddled shawls -- as opposed to two-paddled. By default, we sell four-paddled 70/30 and 50/50 shawls and mufflers, and two-paddled 100% pashmina shawls. A few clients have requested single-ply 70/30 or 50/50 shawls and we supplied them with two-paddle single-ply shawls. Even fewer have requested double-ply 100% pashmina shawls, and they got four-paddle single-ply shawls. As we have always had an iron-clad guarantee and never had a return for reasons related to fabric density, we must conclude that they got what they were looking for. (Anyone who feels she has been defrauded is welcome to request a refund.) In any case, the terminological confusion is apparently industry wide.
In view of the above, Sunrise no longer offers ply options. All of our pashmina-silk blend shawls and mufflers, as well as the baby blankets, are four-paddle. All of our 100% pashmina shawls are two-paddle.
One further remark: in pashmina shawls, more is not better. If it were, you guys would be wearing bed-spreads or horse-blankets, rather than shawls. The modern pashmina shawl has evolved to meet women's need for a warm AND light wrap. The paddle-adjusted shawl may be a shade less dense than a double-ply, but it has undoubtedly achieved its international success due to the fact that it so successfully achieves the desired balance of warmth and weight.
Fringe Style and Length
Three-inch (8 cm) knotted fringes on wraps (full-size, medium, and muffler) are standard; however, you may select shorter lengths (e.g. 1 inch/ 2.5 cm) or none at all. Baby blankets are generally hemmed (no fringes).
Standard 3-inch (8-cm) twisted and knotted fringes.
Shorties (1 to 1.5 inches) are also available.

Natural ("ragged") fringe

"Gathered tassels." Measuring tape shows centimeters.
COLOR
Aside from our Pret-a-Porter inventory, all Sunrise products are made-to-order. You can have any color you desire, except bright white, which (due to fiber limitations) we are unable to provide.
If you know the accurate name of the color you want, you can enter it in the "ordering instructions" text box that comes up when you order the basic piece (that is, the size and and fabric). Alternatively, you can use the thread colors or the pull-down color menus; or you can send us a swatch or other color sample.
---
[ Enough! I'm ready to Order ]
---