| | |
| --- | --- |
| | Print Designs for Pashmina Shawls |
Sunrise has two categories of prints: digital and block print. Digital prints are applied using technology that permits relatively large, non-repetitive designs. Block print designs may appear complex, but they are composed of relatively small repeating elements. For block print designs, colors may be chosen by the customer.

Supplemental charges for print designs

The extra charges for printed shawls and mufflers are as follows:

100% pashmina fullsize shawl with print  

70% pashmina/30% silk fullsize shawl with print  

50% pashmina/50% silk fullsize shawl with print  

100% pashmina medium size shawl with print    

70% pashmina/30% silk medium size shawl with print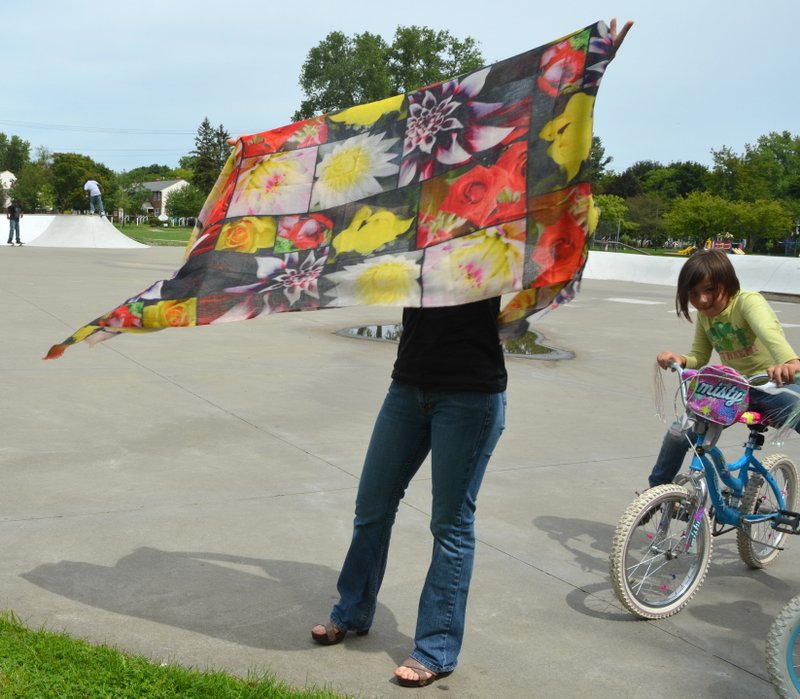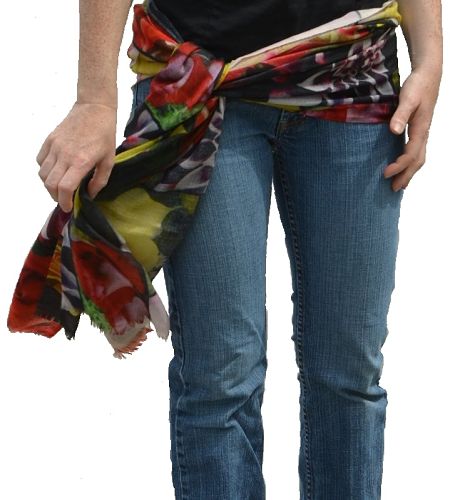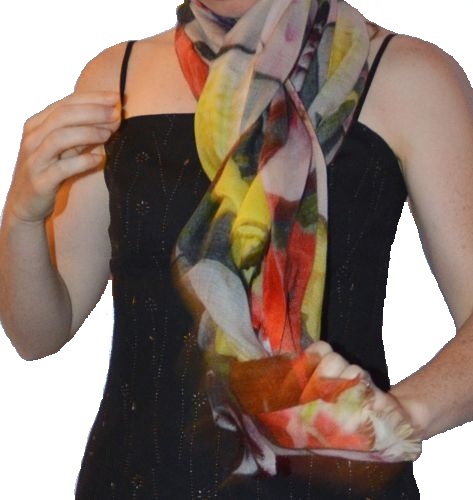 Oshinko print
We currently have three block print designs for pashmina shawls: the elegant Tyokeho, the florid Sundari, and the chic Zebra. Any of these designs can be selected, in any combination of background and print color, as optional customizations for any of our products. We recommend selecting a darker color for the print than for the background. [More photos ]
See below for instructions as to how to order a pashmina with print design.
Tyokeho Print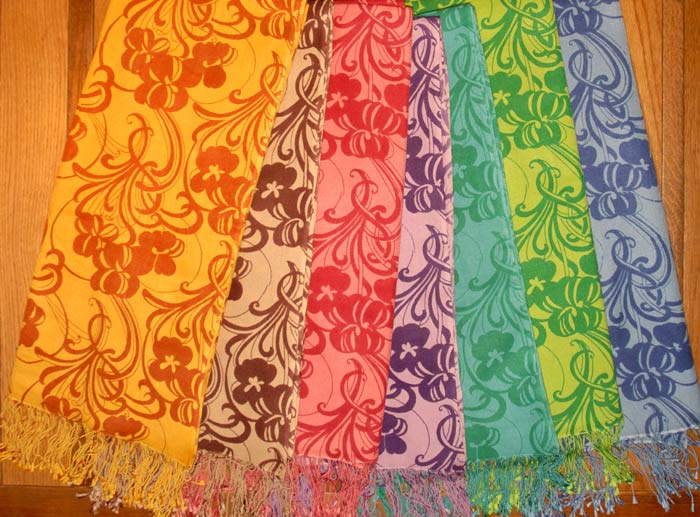 This Tyokeho panoply is just a representative sampling of the color combinations you can select.
Sundari Print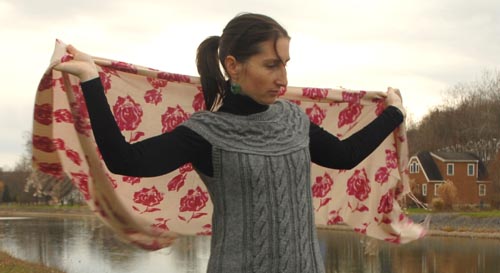 Medium-size 70/30 with Sundari print
Zebra Print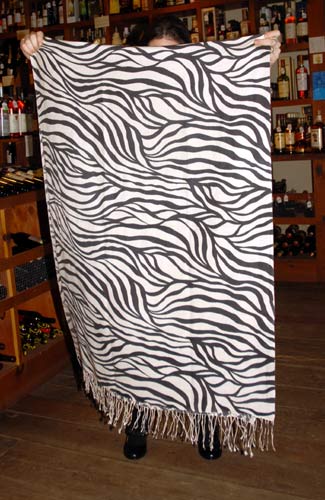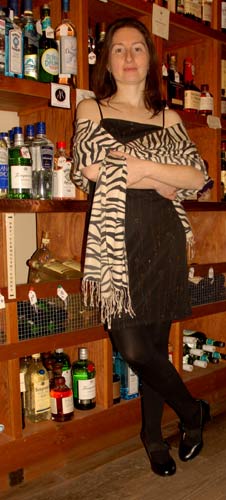 Medium-size 70/30 with Zebra print
Foliana Print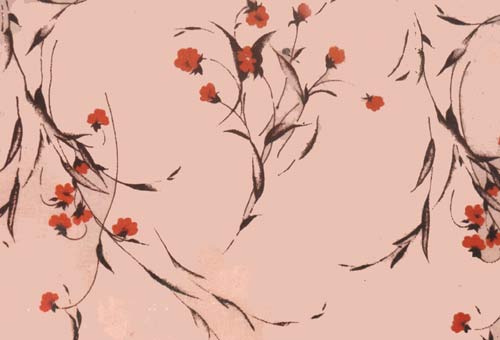 Foliana Print, available in any color combination.
To order print designs, just select the fabric blend (100% pashmina, 70/30 or 50/50), size, and color on the Order page, and write a note in the ordering instructions textbox to indicate the desired style; be sure to specify both background color (or colors, if you want an ombre effect) and also the print color.
Ordering Instructions Textbox? Where's that???
Okay, okay, this is a bit confusing.
First, you click on the link to buy the size and blend that you want. You will be instantly transported to the shopping cart.
When the shopping cart comes up, you will first read some very important blah-blah. (Don't skip this.)
Then, you will choose the color for the item you have selected.
Then, you will choose a shipping option
Near the bottom of the page, between the shipping option and payment type selection spots, there is an oblong box labeled Ordering Instructions. That's where you can type in the style and color of print, beading, embroidery, ombre, as well as jacquard, fringe-length, or any other issues such as delivery deadline, wording of personal message to be included, customs mitigation strategy, and so on.
Thank you for your indulgence. We are working to improve transparency in our ordering procedures.
The receipt generated automatically at checkout will reflect only the price of the base shawl, but you will receive a purchase confirmation email specifying the actual price of your order, including custom options. Please check it carefully and let us know promptly if there is any inaccuracy.
---
[ Enough! I'm ready to Order ]
---
Sunrise Pashmina Internet distribution office:
511 W. Green St., Ithaca, NY 14850 USA
Call us at (607) 256-0102. Night or day.
If we can't answer immediately, we'll get back to you. Soon.
Or email us at sunrisepashmina@gmail.com