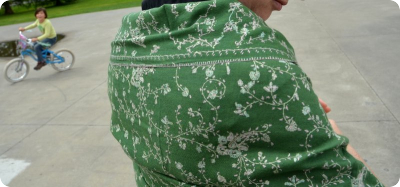 Medium size 70% pashmina/30% merino wool shawl
with Ranika full-surface embroidery.

Pret-a-Porter:
Good to Go!
Just like custom orders from Kathmandu, Pret-a-Porter shawls are shipped with faux-silk totes; however the prices are in general a little cheaper -- in some cases a lot. Right now everything is marked 12% off our regular prices.
How fast are we talking about? Orders will be shipped on the next business day, and in some cases on the day we receive them. Priority Mail (within the U.S.) takes about two or three days.
Pret-a-Porter Shipping
Shipping for pret-a-porter items is $14.50 within the United States. If you need something anywhere else, we will charge you the actual cost of shipping by the means you choose.
Travel or Meditation Blanket, medium size (54" x 84"), double weight 100% pashmina
(VIS #84) Dark Caribbean (turquoise), thread color 395; standard 3" knotted tassels. Regularly $285, now $250.80
---
Full size (36" x 80") 100% pashmina shawl, superfine Pumori yarn, diamond weave
(VIS #15) Burgundy (thread color #27) with ragged eyelash fringes; regularly $140, now $123.20

---
Full size (36" x 80") 100% pashmina shawl
Select from the following designs:
(VIS #11) Medium gray, twill weave with ragged eyelash fringes; regularly $130, now $114.40. Three pieces available.
(VIS #7) Narrow-to-narrow ombre, Freesia yellow (thread color 164) to Celosia Orange (thread color 77); basic weave, standard 3" knotted fringe. Regularly $137.50, now $121
(VIS #101) Thread color 184, Pantone Tourmaline, 16-4411; basic weave, standard 3" knotted fringe. Regularly $130, now $114.40
(VIS #9) Long-to-Long ombre, Dove Gray to Dark Charcoal (thread colors 32LL and 36); basic weave, standard 3" knotted fringe. Regularly $137.50, now $121
(VIS #9) Narrow-to-narrow ombre, Radiant Orchid (thread color 30) to Dazzling Blue (thread color 88); basic weave, standard 3" knotted fringe. Regularly $137.50, now $121
(VIS #11) Thread color 26, basic weave, standard 3" knotted fringe. Regularly $130, now $114.40
(VIS #10) Thread color 27, basic weave, standard 3" knotted fringe. Regularly $130, now $114.40
---
Full size (36" x 80") 70% pashmina/30% silk shawl
(VIS #55) Long-to-long ombre in blues (thread colors #86-89), basic weave, with clear cylindrical beading on standard 3" fringes. Regular $117.50; now $103.40
 
---
Medium size (28" x 80") 100% pashmina shawl, superfine Pumori yarn, diamond weave
(VIS #15) Red wine (thread color #27) with ragged eyelash fringes; regularly $130, now $114.40
(VIS #88) Digital Oshinko print. Regularly $150; now $132
---
Medium size (28"x 80") Double-weight 100% pashmina shawl
(longitudinal warp threads are doubled)
(VIS #85) Special item! Baby pink (thread color #79-L), ragged eyelash fringe. Regular $120, now $105.60
(VIS #17) Special item! Medium mustardy yellow and sand (thread color #164) narrow-to-narrow ombre, standard 3" fringe. Regular $120, now $105.60
---
Medium size (28"x 80") 100% pashmina shawl (regular weight)
Select from the following designs:
(VIS #89) Burgundy , with 3" twisted and knotted tassels. Regular $120; now $94.80
(VIS #100) Raspberry, with 3" twisted and knotted tassels. Regular $120; now $94.80

---
Medium size (28"x 80") 70% pashmina/30% silk shawl
Select from the following designs:
(VIS #57) Pantone Chardonnay 13-0622 (light greenish yellow), herringbone weave. Regularly $85; now $74.80
(VIS #8) Pantone dusty yellow 12-0619, reversible weave (silk on one side, pashmina on the other). Regularly $120; now $94.80
(VIS #99) Black-and-white zebra print. Regularly $100; now $88.00
(VIS #3) Maya paisley jacquard, black. Regularly $102.50; now $90.20
(VIS #5) Maya paisley jacquard, cayenne (thread color #84). Regularly $102.50; now $90.20
(VIS #4) Maya paisley jacquard, radiant orchid (thread color #30). Regularly $102.50; now $90.20
(VIS #6) Maya paisley jacquard, dark cayenne (a bit darker than thread color #84). Regularly $102.50; now $90.20
(VIS #58) Maya paisley jacquard, fire-engine red (thread color 100-D). Regularly $102.50; now $90.20
(VIS #60) Maya Jacquard, black, clear cylindrical beads. Regularly $117.50; now $103.40
(VIS #59) Maya Jacquard, off-white, clear cylindrical beads. Regularly $117.50; now $103.40
(VIS #93) Lilac (thread color #30), full-surface Kanya Devi embroidery in same color thread, standard 3" tassels. Regularly $170, now $149.60
---

Medium size (28"x 80") 70% pashmina/30% merino wool shawl
(VIS #70) green, with full-surface Ranika embroidery. Regularly $150, now $132

---
Double Oversize Muffler (18" x 72"), double-weight 100% pashmina
(VIS #86) Tigerlilly orange (Pantone 17-1456). Double weight twill. Regularly $65, now $57.20
---
Oversize Muffler (14" x72"), 100% pashmina
(VIS #71) Lemon Zest, short knotted fringe. Regularly $43, now $37.84
(VIS #72) Double-weight, Celosia Orange (thread color 77), standard 3" fringes. Regularly $80, now $70.84
(VIS #73) Double-weight, Dazzling Blue (thread color 88), herringbone weave, hemmed edge. Regularly $80, now $70.84
(VIS #75) Double-weight, Navy Blue, standard 3" fringes. Regularly $80, now $70.84
(VIS #74) Double-weight twill weave, Violet Tulip (thread color #122), standard 3" fringes. Regularly $80, now $70.84
(VIS #76) Burgundy; hemmed ends (no fringe). Regularly $43, now $37.84

---
Compact Muffler (12" x 60"), 70% pashmina/30% silk
(VIS #80)Antique gold. Regularly $30, now $26.40

---
Baby Blanket (36" x 36") in double weight 100% pashmina
(VIS #81) Bright green, with ragged eyelash edge. Regularly $68; now $59.84
(VIS #82) Pink, with satin border. Regularly $68; now $59.84
(VIS #83) Light Neptune Green (Pantone 14-6017), thread color #226-L, knit, hemmed (satin border). Regularly $84, now $64.24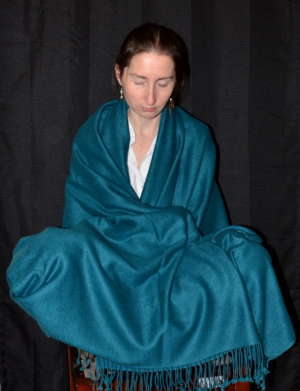 (Above) #84: Travel or meditation blanket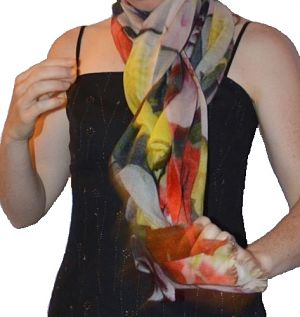 (Above) #88: Pumori 100% shawl with digital Oshinko print



Pantone Chardonnay (see #57)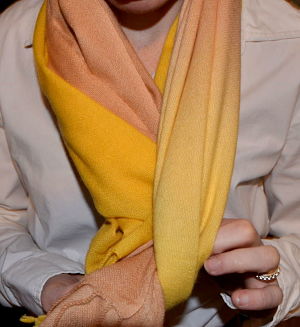 VIS #17: Yellow and sand ombre, double-weight