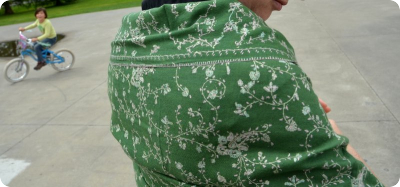 Medium size 70% pashmina/30% merino wool shawl
with Ranika full-surface embroidery.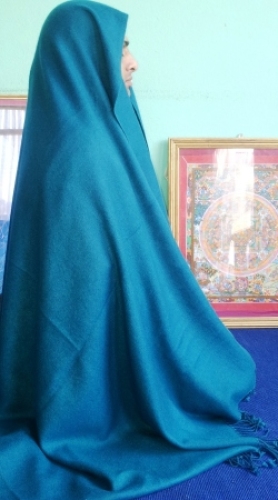 100% pashmina Travel or Meditation blanket
Pret-a-Porter: Good to Go!
Valentine's Day is two weeks away. Custom orders (except embroidered pieces) can be delivered from Kathmandu on time. For quicker delivery in the United States, we have a few dozen pieces in our Pret-a-Porter collection. These are all new pieces, and backed by our full guarantee, just like the made-to-order pieces coming from Kathmandu, but they are ready to ship from our office in Ithaca, NY.
Just like custom orders from Kathmandu, Pret-a-Porter shawls are shipped with faux-silk totes mini collections of Nepalese postage stamps; however the prices are in general a little cheaper -- in some cases a lot. Right now everything is marked 12% off our regular prices.
How fast are we talking about? Orders will be shipped on the next business day, and in some cases on the day we receive them. Priority Mail (within the U.S.) takes about two or three days.
Uh-oh... Alternatively... we can email you a printable Certificate of Belated Delivery, attesting to your generous gift, somehow stuck in the Cupid's quiver, but due at any moment. No charge for this service.
Pret-a-Porter Shipping
Shipping for pret-a-porter items is $14.50 ... but only within the United States. If you need a something anywhere else, it is probably cheaper and faster to order direct from Kathmandu. We are currently working on a Pret-a-Porter collection for Kathmandu, which will be available to customers in all countries. Until that Kathmandu Pret collection is available, if your order contains Pret-a-Porter as well as non-Pret-a-Porter items, we will have to calculate the shipping for two separate packages, as they will be coming from opposite ends of the Earth.
As indicated below, the number of styles available and the number of pieces in each color and style are currently quite limited. However, we are expanding our inventory, so check back, or request email updates.
Travel or Meditation Blanket, medium size (54" x 84"),double weight 100% pashmina
In Stock: Dark Caribbean (turquoise), thread color 393; standard 3" knotted tassels. Regularly $285, now $250.80
---
Full size (36" x 80") 100% pashmina shawl, superfine yarn
(IS #9) Long-to-long ombre (aqua to Caribbean), with ragged fringes; regularly $155, now $136.40

---
Full size (36" x 80") 100% pashmina shawl
Select from the following designs:
(IS #7)Narrow-to-narrow ombre, Freesia yellow (thread color 164) to Celosia Orange (thread color 77); basic weave, standard 3" knotted fringe. Regularly $137.50, now $121
IS-N: Thread color 184, Pantone Tourmaline, 16-4411; basic weave, standard 3" knotted fringe. Regularly $130, now $114.40
(IS- #9) Narrow-to-narrow ombre, Radiant Orchid (thread color 30) to Dazzling Blue (thread color 88); basic weave, standard 3" knotted fringe. Regularly $137.50, now $121
(IS -#11) Thread color 26, basic weave, standard 3" knotted fringe. Regularly $130, now $114.40
(IS -#10) Thread color 27, basic weave, standard 3" knotted fringe. Regularly $130, now $114.40
---
Full size (36" x 80") 70% pashmina/30% silk shawl
(IS-#55) Long-to-long ombre in blues (thread colors #86-89), basic weave, with clear cylindrical beading on standard 3" fringes. Regular $117.50; now $103.40
---
Medium size (28"x 80") 100% pashmina shawl
Select from the following designs:
(?)Ragged edges (no tassels) in deep teal. Regularly $120; now $94.80
(IS #7) Raspberry, with 3" twisted and knotted tassels. Regular $120; now $94.80
Extra-fine diamond weave, with digital Oshinko print. Regularly $150; now $132

---
Medium size (28"x 80") 70% pashmina/30% silk shawl
Select from the following designs:
Oatmeal, herringbone weave. Regularly $85; now $74.80
(IS #8) Pantone dusty yellow 12-0619, reversible weave (silk on one side, pashmina on the other). Regularly $120; now $94.80
(IS #3) Maya paisley jacquard, black. Regularly $102.50; now $90.20
(IS #5) Maya paisley jacquard, cayenne (thread color #84). Regularly $102.50; now $90.20
(IS #4)Maya paisley jacquard, radiant orchid (thread color #30). Regularly $102.50; now $90.20
(IS #6) Maya paisley jacquard, dark cayenne (a bit darker than thread color #84). Regularly $102.50; now $90.20
(IS #58) Maya paisley jacquard, fire-engine red (thread color 100-D). Regularly $102.50; now $90.20
(IS #60) Maya Jacquard, black, clear cylindrical beads. Regularly $117.50; now $103.40
(IS #59) Maya Jacquard, off-white, clear cylindrical beads. Regularly $117.50; now $103.40
Lilac (thread color #30), full-surface Kanya Devi embroidery in same color thread, standard 3" tassels. Regularly $170, now $149.60
Ivory, with gold metallic Emparata four-side border embroidery. Regularly $125, now $110
---

Medium size (28"x 80") 70% pashmina/30% merino wool shawl
green, with full-surface Ranika embroidery. Regularly $150, now $132

---
Oversize Muffler (14" x72"), 100% pashmina
Tigerlilly orange. Regularly $43, now $37.84
Double-weight, Celosia Orange (thread color 77), standard 3" fringes. Regularly $80, now $70.84
Double-weight, Dazzling Blue (thread color 88), herringbone weave, hemmed edge. Regularly $80, now $70.84
Lemon Zest, short knotted fringe. Regularly $43, now $37.84
Burgundy; hemmed ends (no fringe). Regularly $43, now $37.84

---
Compact Muffler (12" x 60"), 70% pashmina/30% silk
Antique gold. Regularly $30, now $26.40

---
Baby Blanket (36" x 36") in double weight 100% pashmina
Bright green, with ragged edge. Regularly $68; now $59.84
Pink, with satin border. Regularly $68; now $59.84
African Violet (thread color #29), herringbone weave, satin border. Regularly $73, now $64.24

Sunrise Pashmina Internet distribution office:
511 W. Green St., Ithaca, NY 14850 USA
Call us at (607) 256-0102. Night or day.
If we can't answer immediately, we'll get back to you. Soon.
Or email us at info@sunrise-pashmina.com