We're not interested in Nepal just because we happen to be selling Nepalese products. Our interest in Nepal came first. On this page, we'll be posting news, links, photos, and other features relating to Nepal. Please drop by again soon to see what's up.
Bloomberg News contacted Sunrise Pashmina about doing a report on our operations in Nepal following the earthquake. We referred them to Maheela, the Women's Foundation of Nepal, a non-profit cooperative that will be supplying us as soon as production resumes.
From Mike Mount CNN Pentagon producer; CNN, Aug. 28, 2008
Suit: KBR forced Nepali men to work against will in Iraq
WASHINGTON (CNN) -- A lawsuit filed in California against Kellogg, Brown and Root on Wednesday alleges the company and its subcontractor were involved in a human trafficking plan that forced Nepali men to work against their will in Iraq. The lawyer and relatives of men who were employed by KBR and allegedly sent to Iraq without their consent.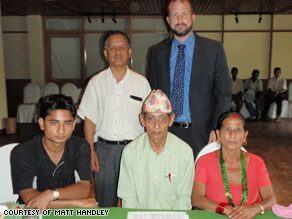 The lawyer and relatives of men who were employed by KBR
and allegedly sent to Iraq without their consent.
The men, between the ages of 18 and 27, were recruited in Nepal and told they would be doing work in hotel and restaurant kitchens in Amman, Jordan, but were sent instead to Iraq to work at a U.S. air base, according to the lawsuit.
The lawsuit alleges KBR, based in Houston, Texas, and Daoud & Partners, a Jordan-based subcontractor, engineered the trafficking scheme.
A KBR spokeswoman would not comment directly on the allegations but released a statement defending the company.
"KBR has not yet seen the lawsuit so it is premature for us to comment at this time. The safety and security of all employees and those the company serves remains KBR's top priority. The company in no way condones or tolerates unethical or illegal behavior," KBR spokeswoman Heather Browne said in a statement e-mailed to CNN.
"Each employee is expected to adhere to the company's Code of Business Conduct and complete ethics training, which includes TIPS (Trafficking in Persons) information," Browne continued.
Efforts by CNN to reach Daoud were unsuccessful.
When the Nepali men arrived in Jordan, according to the lawsuit, the contractors took their passports and drove them into Iraq.
Mathew Handley, a lawyer with Cohen, Milstein, Hausfeld & Toll, which filed the lawsuit, said about 70 Nepali men were driven into Iraq in a large convoy of civilian vehicles.
One of the lead vehicles was ahead of the convoy and was stopped by insurgents posing as Iraqi Police. Twelve of the Nepali men were taken by the insurgents and later killed.
"As the men were being transported to Iraq, a car containing twelve of the men was stopped by members of the Ansar al-Sunna Army, an insurgent group. The 12 men in the car were taken hostage and executed by the insurgents," according to a statement on the law firm's Web site.
A 13th man, Buddi Prasad Gurung, was not kidnapped and arrived at the U.S. Al Asad air base in western Iraq in August 2004. Gurung worked in a warehouse managed by KBR and was released 15 months later by the company, according to the law firm.
Gurung and the families of the 12 men who were killed have brought the lawsuit. Handley says the other Nepali workers who were sent to Iraq with Gurung did not come forward for the lawsuit after they were eventually released from KBR.
"Their families went deep into debt to arrange the jobs, which they hoped would lift them out of poverty," according to the lawsuit.
The case garnered the attention of the Department of Defense Inspector General's office after a number of news reports about KBR involvement in trafficking. The department concluded an investigation in April 2006.
"The primary finding concluded that the U.S. Government had no jurisdiction over the persons, offenses, or circumstances that resulted in the Nepalese deaths," according to the final report.
The report also concluded that the events happened "before starting their employment with KBR."
However, the case led to increased awareness and enforcement of trafficking laws by the U.S. military.
---
From Wikipedia article on KBR
And just who are these kidnapping terrorists???
KBR, Inc. (formerly Kellogg Brown & Root) NYSE: KBR is an American engineering and construction company, formerly a subsidiary of Halliburton, based in Houston. After Halliburton acquired Dresser Industries in 1998, Dresser's engineering subsidiary, The M. W. Kellogg Co., was merged with Halliburton's construction subsidiary, Brown & Root, to form Kellogg Brown & Root. KBR and its predecessors have won many contracts with the U.S. military during the 2003 invasion of Iraq, as well as during World War II and the Vietnam War.
KBR is the largest non-union construction company in the United States.[1]
Human Trafficking Lawsuit
As of Aug.28, 2008, Defense contractor KBR Inc. and a Jordanian subcontractor are accused of human trafficking in a federal lawsuit filed in Los Angeles. The suit alleges 12 Nepali men were being transported to Iraq against their will when they were killed in an insurgent attack. The lawsuit filed Wednesday by an attack survivor and family members of victims claims subcontractor Daoud & Partners recruited the men in Nepal to work in hotels and restaurants in Jordan. The company allegedly seized their passports when they arrived in Jordan in 2004 and had them sent to Iraq to work on a U.S. air base.
Political connections and controversy
Brown and Root had a well-documented relationship with U.S. President Lyndon Johnson, which began when he used his position as a Texas congressman to assist them in landing a lucrative dam contract. In return they gave him the funds for his 1948 Senate race against Coke R. Stevenson.[17] The relationship continued for years, with Johnson awarding military construction contracts to B&R.
Following the end of the first Gulf War, the Pentagon, led by then Defense Secretary Dick Cheney, paid Halliburton subsidiary Brown & Root Services over $8.5 million to study the use of private military forces with American soldiers in combat zones.
Cheney was chairman and chief executive officer of Halliburton from 1995 to 2000. He has been accused of providing work to KBR under contingency contracts to financially benefit himself and his business associates.
---
Almost a Dinner Party
A guerrilla becomes prime minister
"The Maoist revolution aims to get rid of the whole economic, political and social system that oppresses the people," wrote Li Onesto, an American fan of Nepal's Maoists, in 2005. Some of this is probably still true, but the final revolution has not been the act of violence she and the Maoists envisaged at the time. Within eight months of her article the Maoists abandoned their war, having joined mainstream parties in a street movement which eventually toppled the monarchy.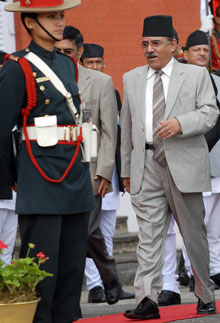 Power grows out of a two-piece suit
This year the former guerrillas have won an election, Nepal became a republic and, as of August 15th, the Maoists' leader, known as Prachanda, meaning fierce, is prime minister. After months of bickering among the political parties, a huge majority of the assembly elected in April voted him in. Prachanda described himself as very emotional. Three days later he was sworn in by another newcomer, Nepal's first president, Ram Baran Yadav. Not surprisingly, the Maoist broke with tradition by swearing to be faithful to Nepal in the name of the people, rather than of God. He also wore Western clothes (another first) but made a gesture to national custom by donning a traditional Nepali cap.
It has been an astonishing transformation. For over a year the Maoists have been part of Nepal's transitional government, heading ministries and becoming ambassadors. Until now, however, they have always seemed to have one foot outside the government: threatening, for instance, to revolt and launch massive street protests if things did not go their way. Many Nepalis say they voted Maoist for fear that the ex-rebels might go back to war, a fear fuelled by local Maoists' threats. Now they have a chance to change the government from the inside, not the outside.
It is still not clear just how revolutionary the Maoists intend to be. Some of their ideological comrades abroad were aghast at their making peace and joining the democratic process. Many poor Nepalis will wonder whether, after ten years of war costing 13,000 lives, the Maoists will now sink into the comforts of power and prestige and forget them. The Maoists will have to prove them wrong. Their election manifesto called this the era of capitalist democracy in Nepal and stressed that the private sector is intrinsic to their plans. But they also promise revolutionary land reform based on the principle of land to the tiller, equal rights for women and lowly castes, and much else. Now they must work out what this means in practice.
More immediately Prachanda must reassert the authority of the state, which has been badly eroded over the past two years as crime has spiralled and ethnic groups clamoured for their rights. He must also decide the future of the Maoists' 19,000-strong army, most of which is still confined in camps under a UN-assisted peace process; in particular, how it might be combined with the Nepalese Army. He has already been in talks with his former arch-foe, the army chief, on this and other matters. In Nepal the once unthinkable is beginning to seem almost inevitable.
---
Prime Minister Dahal Sworn In
Prime Minister Pushpa Kamal Dahal [a.k.a., Prachanda, leader of the terrorist Maoist insurgency, recently elected in an apparently fair popular election] was sworn in amid a ceremony at Shital Niwas, the office of the President, Monday afternoon.
President Dr Ram Baran Yadav administered him oath of office and secrecy. He took oath "in the name the people", not "in the name of name of God" as phrased in the original oath paper.
Breaking the long-held tradition, PM Dahal attended the swearing-in ceremony wearing a western suit and Bhadgaule topi instead of the traditional 'national dress' Daura Suruwal and 'Nepali topi'.
Earlier today, a central committee meeting of the Maoist party had taken the decision on the PM's outfit.
Vice President Parmananda Jha, CA chairman Subas Nemwang, leaders of different political parties and heads of foreign diplomatic missions were also present on the occasion. Nepali Congress leader Sher Bahadur Deuba, who lost to Dahal in Friday's prime ministerial election, was also present at the ceremony, but former PM Girija Prasad Koirala didn't show up.
Dahal's wife Sita Poudel and his father Muktiram Dahal were also seen at the ceremony.
Foreign diplomats including Indian ambassador Rakesh Sood and American ambassador Nancy J Powell personally congratulated the PM at the end of the ceremony.
After being sworn in, the PM went to Singha Durbar and assumed his office. He shifted to official residence in Baluwatar from Naya Bazaar today.
---
NEPAL
The Maoists learn that not all power grows from the barrel of a gun.
It held elections in April. But Nepal is still without a government. On July 23rd, however, it did acquire a president, Ram Baran Yadav, a peasant's son from the southern Terai plains. This follows the abolition of the 239-year-old monarchy. The former king, Gyanendra, has been granted an official forest retreat to sulk in.
The election, for a Constituent Assembly, which, besides being responsible for drafting a new constitution, doubles as a parliament, was won by the Communist Party of Nepal (Maoist). For a decade from 1996, the Maoists waged a vicious insurgency against the government. Now, they took 220 of the assembly's 601 seats but were unable to form the government. As the other parties reeled from defeat at the polls, the Maoists seem to have overestimated their own strength. Rather than forge a government of national unity, they were arrogant, publicly deriding other party leaders as "losers".
An interim constitution calls for consensus. It was assumed that this would mean a Maoist-led coalition, with big jobs shared: the second-largest party, the Nepali Congress, would take the presidency (a largely ceremonial role); another big party, the United Marxist-Leninist, would chair the assembly; and a relative newcomer, from the Terai, the Madhesi Janadhikar Forum, would have the vice-presidency.
No one challenged the Maoists' right to lead the government. So foreign donors and diplomats ingratiated themselves with Pushpa Kamal Dahal, known as "Prachanda", the Maoists' supremo. The Maoists started announcing their policies--a "radical transformation", including land reform and a doubling of government expenditure (without explaining where the resources would come from). In a more abandoned moment, Prachanda even said that the current political exercise was just a way-station on the road to a "people's republic", to be achieved, if necessary, through an "October revolution".
A government could not be formed, however, without first electing a president, to whom the sitting caretaker prime minister, Girija Prasad Koirala, could hand in his resignation. The Maoists sought to foist their own presidential candidates on the other parties. One was a septuagenarian revolutionary, whose party had made an abysmal showing in the elections, and whose claim to fame was a series of deadly bombings in Kathmandu in 1985. This galvanised the other parties to co-operate in finding a non-Maoist candidate.
In the indirect presidential election, Mr Yadav, a long-time Congress leader from the Terai plains and a medical doctor by training, won the votes of almost all the other parties. He is seen as a capable man--so Nepal has been pulled back from the brink. Mr Koirala has been able to tender his resignation. And the long-delayed formation of a national-unity government seems possible. The Maoists, stung by this defeat, and with unreconciled radicals in their ranks, will shun the compromises needed to lead it. But the past three months have been a learning period--not just about the nitty-gritty of parliamentary haggling but, more fundamentally, about not overreaching themselves.
---
The Iceman Cometh Not
But Everest is still a big market opportunity
NUDE mountaineering will never catch on in the Himalayas. But it is the sort of thing that happens when climbing Everest ceases to be the exclusive preserve of an elite. Wim Hoff, a Dutchman also known as The Iceman, has had to abandon an attempt to hike up the world's highest mountain nearly naked. But over 50 fully-clothed expeditions are now huddled amid rock and ice at two base camps on either side of the mountain.
A reliable tally is not yet available, but probably more than 500 people scaled the peak during this year's brief climbing season, which is now concluding--exceeding even last year's bumper crop of around 450.The death of 11 climbers last year appears to have done nothing to put people off.
All this activity has created a flourishing micro-economy. "Everything to do with Everest is so expensive, man," complains Dan Mazur, an expedition leader, as he fingers a $600 oxygen mask. His SummitClimb expedition costs clients $26,450. Some prices are as steep as $60,000. The Nepalese government charges $10,000 a client for a climbing permit. China has lured many climbers to the trickier north face by charging less than half that.
The tourism does seem to benefit--or at least enrich--the locals. Many Sherpa people, who live to the south of the mountain and worship it as the home of a goddess, send their children to boarding school in Kathmandu, and own second homes there. Villages near the mountain are Nepal's richest. Rare elsewhere, gold teeth are in vogue.
"Everyone is looking for a challenge," says David Tait, a London hedge-fund manager who planned to execute a "double traverse" of the mountain this year. In the event he could only summon the energy to climb right over it once. "Technology makes the mountain more accessible. Personal wealth means more people can afford it," he says.
---
Nepal
Nepalis vote; the peace process lives another day
TO THE congratulatory whirring of millions of unseen insects, enlivened by the rising Himalayan sun, Nepali voters turned out early on April 10th. In the villages of the Kathmandu valley, long queues awaited the opening of polling stations. Within three hours, some had recorded a 50% turnout. As a preliminary endorsement of a troubled election, Nepal's first in almost a decade dominated by civil war and political strife, this was cheering.
Campaigning for the poll was violent, even by South Asia's grisly standards. Two candidates and a score of party workers were killed by rival party thugs. A dozen bomb blasts, including one at a mosque last month that killed two worshippers, further blighted the process. Diehard supporters of the soon-to-be-axed monarchy, as well as ethnic separatists in the southern Terai plain, were probably to blame.
More worrying, most of the pre-election violence was carried out by one of the main contestants: the Communist Party of Nepal (Maoist), which in 2006 ended a decade-long armed struggle. Its 23,000-strong rebel army is corralled under UN eyes, but intact. On the stump, Maoist leaders argued that anything less than a sweeping victory for their party would be evidence of massive rigging.
That was ominous: the Maoists are believed, in the absence of any reliable opinion poll, to be widely detested. But that they took part in the election--twice postponed, once on their account--was worth celebrating. Nepal, a country of 28m people, is a poor, lawless and fractious place. It faces worsening ethnic, caste-based and regional conflicts. The hoarding of power and riches in the capital, Kathmandu, causes huge resentment, which fed the Maoist insurgency. Indeed, under the terms of a shambling peace process, the basic shape of the Nepali state is an open question. The election has improved the odds the answer will be found peacefully.
Assuming, that is, the Maoists accept the results. Winning at least 80 seats--out of a possible 601--is rumoured to be the bottom line for their continued commitment to democracy. But a convoluted electoral system, voter intimidation and the passage of time since Nepal's last serious election, in 1999, make the outcome hard to predict. The aggrieved southerners should also win at least 80 seats, though split between different parties. They are one of several marginalised ethnic or caste groups for whom a block of seats has been reserved. The Terai lot successfully agitated for improved terms in February through a two-week blockade of Kathmandu. Once convened, the next assembly's main task will be to draft a constitution that satisfies as many potential agitators as possible. It will be difficult. The peace process, which began with a popular movement against the dictatorial King Gyanendra in 2006, is based partly on a commitment by the parties to make Nepal a federal republic. But they disagree about what this should in practice entail. The Maoists want an executive president and provinces drawn on ethnic lines. The Nepali Congress party, which led the interim coalition government, wants a figurehead president.
Some Congress members might even hope to retain King Gyanendra as a constitutional monarch. That is probably impossible. As its first act, the new assembly is supposed to finalise a decision of its predecessor to scrap the 240-year monarchy. So it was strange, and faintly alarming to his subjects, when the king broke a long silence on April 9th to urge his "beloved countrymen" to turn out and vote.
---
Nepal
A Maoist walk-out jeopardises the peace process
RATHER than lose an election, Nepal's Maoists seem ready to scuttle it. On September 18th they announced that they were leaving the eight-party transitional government headed by Girija Prasad Koirala. They seemed to realise that they would do badly in elections, scheduled for November 22nd, for an assembly to draft a new constitution. Rather than risk humiliation, they shifted the goalposts, making demands beyond the powers of the interim constitution.
That constitution provides for a "mixed election" to the constituent assembly, with half the members to be directly elected, and half through proportional representation. Expecting to fare better under a fully proportional system, the Maoists' leader, known as "Prachanda", demanded one be adopted. The interim constitution also promises that the future of Nepal's monarchy will be decided at the new assembly's first meeting. The Maoists demanded that the interim parliament immediately turn the country into a republic.
The two large political parties, Mr Koirala's Nepali Congress and the mainstream Communists, known as the UML, had to decide how much ground to give to ensure elections would be held and peace preserved. There was talk of seat adjustments to ensure that a dozen Maoist leaders made it into the assembly. There were even promises that during the election campaign, all eight parties would make public commitments to vote for a republic.
Ever since a popular movement brought an end to the autocratic rule of King Gyanendra in April 2006, the Maoists' position has been ambivalent. On the one hand, they have submitted to a United Nations-supervised "arms management" process--a euphemism for demobilisation. And, officially, they have given up their "people's war", which in ten years led to some 13,000 deaths, in order to join open, competitive politics. On the other hand, they have not equipped their cadres intellectually for non-violent politics. Instead they have let loose on the populace a corps of thugs, known as the Young Communist League. And last month a Maoist plenum saw militarist hardliners accuse the moderate leadership of "selling out" the revolution. In defensive response, Mr Prachanda and his chief ideologue, Baburam Bhattarai, stiffened their demands.
It has not helped that the eight-party alliance is run autocratically by Mr Koirala, an ailing octogenarian in his sixth decade in politics. Whether out of choice or infirmity, he is increasingly remote, and has alienated his most important democratic ally, the UML's Madhav Kumar Nepal. As the Election Commission prepared for polls, the public watched nervously to see whether Mr Koirala or Mr Prachanda would blink first. Instead, the latter averted his gaze and stalked off.
The timing of the Maoists' exit is at best irresponsible. Nepal is tackling three daunting challenges simultaneously: preparing for the first elections since 1999; rehabilitating the victims of the conflict; and restructuring the state, with the monarchy probably being shown the door.
Opportunistic violence has flared in many parts of Nepal over the past year from historically disfranchised groups asserting their demands against the background of abject lack of government. Tensions between the people of the hills and those of the plains are worse than ever. Other linguistic, religious and regional divides are also being exploited. The Maoists' departure from government is likely to encourage violent groups, more of which are being established by the day.
Delaying the election also gives King Gyanendra a breather--hardly the Maoists' intention. The Nepal Army, which waged a dirty war against the Maoists and supported the king's seizure of absolute power in February 2005, may also savour the prospect of a descent into anarchy and turmoil. It would justify its re-emergence from the barracks, where it has been sequestered in humiliation since April 2006. A reinvigorated Nepal Army is surely the last thing that the Maoists would want.
There is still hope, however. Despite the fierce speeches surrounding their withdrawal, Maoist leaders did not reject the peace agreement they signed with the other political parties, nor the interim constitution, and have not left the eight-party alliance. At talks with the other parties on September 20th a compromise was discussed, in which parliament would make some token gesture of support for a republic, but leave the final say to the sovereign, elected constituent assembly.
---
Shooting the messengers
The media and NGOs are the king's latest targets
MEMBERS of Nepal's royal junta like to boast that without the tiresome restraints of human-rights standards they could defeat a ten-year-old Maoist insurgency in a matter of months. It is not true: they seldom act as though they feel any need for restraint at all. But just in case, King Gyanendra, who consolidated his power with a coup in February, has set about dismantling the once impressive system of public scrutiny in his rapidly shrinking kingdom.
The United Nations reports that in 2004 no fewer than 136 people disappeared while in state custody. According to a recent report by a UN special rapporteur, torture is systematically practised by the security forces. Shailendra Guragain, of the Centre for Victims of Torture (CVICT) in Katmandu, says that although reports of torture have declined since the coup, he believes abuses are more common than ever. Human Rights Watch and Amnesty International agree.
Most female victims are sexually assaulted. For males, the mistreatment is somewhat different. They are forced to eat food that is by any normal standard inedible. They are beaten on the soles of the feet. If the security forces consider someone to be a serious threat, he or she is killed in the barracks.
Bhaikaji Ghimire, a journalist, was arrested after he wrote an article calling for a new constitution, which is also a Maoist demand. He says that during 14 months in army custody he was kept permanently blindfolded and bound, given electric shocks, hung upside down, half-drowned and then beaten unconscious. He and other prisoners were forced to urinate on themselves and others. He was finally released in August this year, six months after being handed over to the civil authorities. Foreign diplomats are privately speculating on the possibility of future International Criminal Court trials.
Against this grim background, two royal ordinances promulgated in the last month have taken aim at what remains of a free society. The first is designed to stifle the media, particularly by banning news on FM radio. Criticism of the royal family is prohibited and other vaguely worded clauses appear to threaten independent reporting of the conflict with the Maoists. A new custodial sentence for disobedient journalists has been introduced.
The second ordinance, promulgated last week, severely restricts the autonomy of the thousands of NGOs that sprang up during the democratic 1990s. The UN and human-rights groups say its provisions threaten the reporting of abuses. Offending groups are threatened with closure. This might threaten CVICT, says Mr Guragain. "We might be near the top of the list. The human-rights community is on the run, wondering how to survive themselves."
---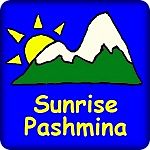 Sunrise Pashmina
Internet distribution office:
511 W. Green St., Ithaca, NY 14850 USA
Call us at (607) 256-0102. Night or day.
If we can't answer immediately, we'll get back to you. Soon.
Or email us at seth@sunrise-pashmina.com