Gift certificate for custom pashmina scarf. Good for anyone who loves color (I seriously spent happy HOURS thinking about the different colors I could order.) I generally find wool itchy, but the pashmina is very soft. I like this vendor because A. They seem to be fair-trade (though I haven't investigated as much as I should.) B. They delivered exactly what I ordered, on time, and it was really cool to get a package from Nepal, and C. They usually throw in an extra gift like a small silk bag. http://www.sunrise-pashmina.com/color.html
Log-in to cash out 20 minutes, delay caused by need to make decisions on size, quality, colour, embroidery and beading. Also found out how the shawls are woven, dyed and embellished by artisans in Kathmandu. Order was immediately acknowledged and I received an e-mail giving the exact price two days later. Shipping time and cost 3½ weeks, cost included in purchase price
Arrived in a package with a brocade bag for the shawl, silver and black stone earrings in a little drawstring purse and a letter on handmade paper thanking me for my order. Satisfaction guaranteed? My elegant and warm wrap for winter evenings helps provide employment for Nepali families and is a fraction of what I would have paid for similar quality retail.
http://www.tasteofhome.com/
Posted: Oct 16, 2004 9:27 PM in Kitchen Chat Post # 1
Terrific Website for Pashmina!
I have been shopping for Pashmina shawls for a few years and wanted to share this with you, in case you wanted one as a treat for yourself or as a fabulous gift...even as bridesmaids gifts (they have specials for that).
Sunrise Pashmina offers, as I have compared them to many, the best in quality, price, variety of color, embroideries, woven designs and the like. Different sizes, fabrications, custom dyed colors and they are delivered from Nepal in a gorgeous brocaded tote bag with free silver earrings too! Gift wrap not necessary!
I have given them as gifts to my MIL and a mother of a bride in my favorite, the jacquard weaves.
The owner is Nepalese, but there is a local guy named Seth who is in Ithaca, NY, whom you can email and talk to on the phone. He is a doll and so funny and when I first saw the jacquards, we talked about the, since they had just started offering them. He didn't know what they were called and I explained the meaning of Jacquard to him. Well, the next thing I know, I go to the website and look up the jacquards and laughed myself sick! Go there and see what he named them! I was so honoured!
Anyway, just wanted to recommend them to you if anybody is ever in the market for them. They have the large, two-ply shawls and mufflers at better prices than much cheaper quality ones in the stores.
I love Sunrise Pashmina! I want another one right now! Wish I had thought of it in time to wear tomorrow...want one in a nice dark raspberry color to match my sweater.
Don't forget to click on Jacquard and see the name he gave them! LOL
---
[ Enough! I'm ready to Order ]
---
Now in Hard-Cover!
Sunrise Pashmina got a cameo mention in Organic Weddings: Balancing Ecology, Style and Tradition By Michelle Kozin. Here's what Kozin had to say:
Fair trade pashmina shawls, like those from Sunrise Pashmina www.sunrise-pashmina.com,, do double duty as bridal party attire and lovely gifts.
You can read it yourself here.
Wandering Educators like Sunrise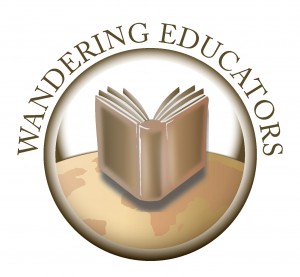 WanderingEducators.com is one of the more alert travel sites on the Web -- and we're not just saying that because Seth writes for them. In fact, Wandering Educators discovered Sunrise and wrote an extensive review/interview before we let ourselves get roped into writing the Nepal column for them. Thanks, Jessie!!
Here at Wandering Educators, we are sometimes happy to recommend global apparel. I've found an incredible Nepalese company that makes the most extraordinary handloomed Pashmina, called Sunrise Pashmina. These Pashmina are so very beautiful - and the story behind Sunrise is pretty cool, too.
[ More ]
Desperately seeking ... SUNRISE!!!
Here's a blog exchange that appeared on Windsor Peak Press -- no, we never heard of it either. The posts:
Desperately seeking .........Cashmere Pashmina wrap/shawl
Hi, I am looking for a decent quality Pashmina shawl to go with my dress for an upcoming wedding. Unfortunately, this is not the season for it so I haven't been able to find one at the usual store (Ann Taylor). I don't really have time to go around looking for one. A Google search turned up a gazillion sites....... but no real recommendation. Therefore, I am turning to you knowledgable and bargain huntress for help. :) Has anyone bought them on-line, were you happy with your purchase? What about the Pashmina Store? The on-site testimonials sound great, but of course, I don't know if they are for real.
TIA,
Lily

RE: Desperately seeking .........Cashmere Pashmina wrap/shawl
I have used the sunrise pashmina site a few times and always got good quality shawls (nicer even than ones bought in India by friends) at nice prices. I think it is sunrisepashmina.com, but I'm not positive.

RE: Desperately seeking .........Cashmere Pashmina wrap/shawl
Oh, thank you so much for your reponse. I had the chance to check out the site and am definitely will be ordering from them. I just love their site and the "green concept". Now, the difficult question is what to order, soooo many tempting choices available. Which ones did you order? Too bad Xmas, Valentine, and birthday have already passed for my "gift option" from husband. :(
Thanks again,
Lily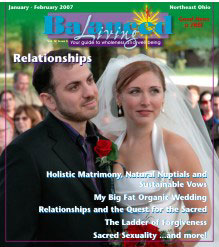 Balanced Living: our favorite lifestyle magazine ... ever since the Jan.-Feb. 2007 issue, featuring "My Big Fat Organic Wedding", an inspiring account of the editor's truly imaginative event (complete with Tartan and blessing stones) -- and we're in it!!!
Our Ceremony
Franklin and I crafted our wedding ceremony to embody our religious and cultural heritages, while at the same time reflecting our personal beliefs and values. Two of our close friends were invited to officiate along with a rabbi; and together, the five of us created a ceremony with reverence for our backgrounds and relevance in our daily lives. During the ceremony I pinned a swatch of my family's Scottish tartan to Franklin to signify his entry into my family. We also asked some of our friends to join us under the chuppah (marriage canopy) to offer their personal interpretation of one of the seven traditional Jewish ceremonial blessings. As our guests came in, each was invited to select a stone from a bowl before heading to his/her seat. During the ceremony each was asked to bless the stone with an intention for us and place it back in the bowl before leaving. These stones, now a part of our home, carry the energy of every guest at our wedding.

Our Gifts to Women Attendants
Our women attendants found themselves cozy in the crisp autumn air during our outdoor ceremony because we had given each of them a royal-purple wrap made of Pashmina wool, handmade to order in Nepal by Sunrise Pashmina, a very small fair-trade company that is owned and operated by its owner, Tsering Choekyap Sherpa in Nepal. The internet-sales portion of the company is based in Ithaca and provides exceptional, personal service. We even received a hand-written note from Tsering himself, offering us best wishes and blessings from his entire team of skilled workers. Sharing the elegant, quality Pashmina shawls was a rewarding experience from start to finish.
You can subcribe to Balanced Living online or by contacting editor/publisher Maggie Busser at 216-226-6094 or Maggie@BalancedLivingMag.com