| | | |
| --- | --- | --- |
| | Sunrise Pashmina Gift Certificates: a gift for creativity | |
Have you received a gift certificate? If so, just order your shawl according to the specifications of the certificate. At the bottom of the first checkout page, choose "Gift Certificate" on the drop-down menu next to Select Payment Type.
OR: just send us an email telling us your selection of fabric (silk blend or pure pashmina), size, color, and customizations (ombre, beading, embroidery, etc.) If you have any questions, please email us (sunrisepashmina@gmail.com) or call (607) 256-0102.
A gift certificate says, "I care about you."
In 2007, 34% of our December sales were in the form of Gift Certificates. This past year, it was 41%. We couldn't have been more pleased!
For one thing, it relieves some of the stress on our production team. Most important, though, it completely eliminates the usual stress that comes with wondering whether our customers will actually be able to deliver their gifts to their loved ones on time. (We send you a printable Gift Certificate by return email!) And, despite the chagrin that some old-fashioned gift-givers might feel about leaving an envelope beneath the tree paper (rather than a gorgeous pashmina), we've had nothing but glowing reports from givers and giftees. Why?
Because the gift certificates allow the giftee an opportunity to micro-manage the creative act! At the very least, they get to choose the precise color that most complements their wardrobe, complexion, and seasonal proclivities. And also the fringe style -- full tassle, shorties, hemmed, or whatever. Plus, if the giver chooses, they may select fiber blend, size, ombre, embroidery, and beading. So when friends ask about it, they can say, "Yes, it's a real pashmina, and I designed it myself!" (Oooooohhhh!)
How can the gift certificate allow such flexibility? Simple. The giver can set whatever limits he or she chooses, leaving choices within those bounds up to the giftee. Or... no limits at all. Either way, the giver pays nothing until the actual order is placed. When we receive the gift certificate redemption order, we notify the giver, and, after receiving confirmation, we process payment.
Top 10 Reasons to buy a Gift Certificate
Reason #10: The recipient gets to select the color of her choice. Why guess?
Reason #9: Your gift is personalized: you can specify the name, occasion, and personal message to be printed on a classy hard-stock certificate.
Reason #8: You can be absolutely sure that the certificate will be on time for the special occasion: not only do we mail the certificate within 12 hours, but we can also send an online version directly to you or to the recipient.
Reason #7: You can buy now and lock in today's price. If there is a sale or some discount that might apply to your purchase between now and the time of actual delivery of the goods, we will send you a refund. You don't even have to ask.
Reason #6: You won't be tempted to keep it for yourself and be stuck without a gift at the last minute.
Reason #5: You can get a refund without trotting down to the post office -- or your neigbborhood Bergdorf-Goodmans. Just email us to cancel the gift certificate -- we won't even bill you until the certificate is redeemed.
Reason #4: Let's say the Gift Certificate gets lost -- or washed in your jean jacket pocket. No problem. All you have to do is remind us of the order.
Reason #3: When she goes online to choose her shawl, she's going to see the actual prices and be very impressed with your generosity. You don't even have to scrape off the price.
Reason #2: You don't have to wrap anything. We will gift-wrap the shawl(s) at the time of delivery.
Reason #1: If she forgets about it, you get to keep your money, and you still get kudos for an extremely thoughtful gift.
---
To order a gift certificate, go to the Order page and fill out the form for a purchase of the same value as the gift you wish to give. In the "ordering instructions" textbox, add a note specifying that you want a gift certificate. You may also specify:
Recipient's Name (as it will appear on the gift certificate
Donor's Name (as it will appear on the gift certificate
E-mail to which certificate should be sent
Occasion (as it will appear on the gift certificate: e.g., birthday, Valentine's Day, Christmas, Hannukah, Mother's Day)
Personal message (to be printed on the gift certificate)
Item to be given or monetary value of gift
OR ... just send us an email stating what you want to offer, and what choices you want to leave open. In either case, we will email you the certificate as a Microsoft Word attachment and as a pdf file which you may print out and deliver to the lucky recipient.
We won't even process payment till the Gift Certificate is redeemed!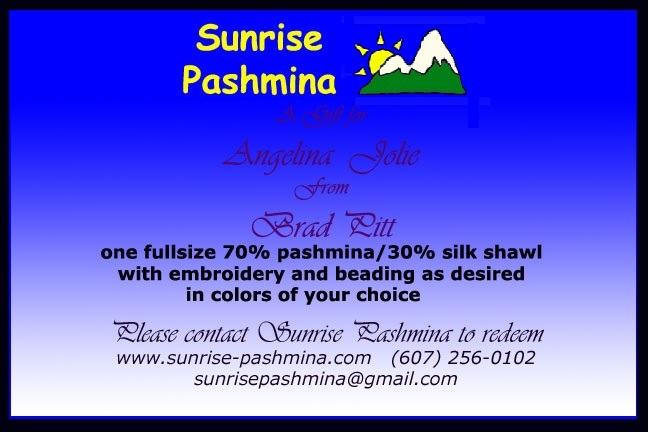 ---
[ Enough! I'm ready to Order ]
---
Sunrise Pashmina Internet distribution office:
511 W. Green St., Ithaca, NY 14850 USA
Call us at (607) 256-0102. Night or day. If we can't answer immediately, we'll get back to you. Soon.
Or email us at info@sunrise-pashmina.com