Embroidery for your Pashmina Shawl or Muffler

Personalized Inscriptions and Exquisite Hand-Stitching at Seriously Low Pricese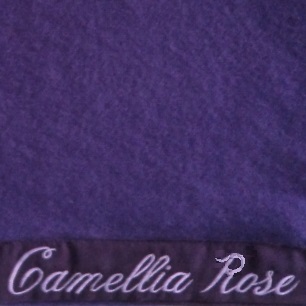 Above: Inscription on pashmina baby blanket
Machine-embroidered inscriptions
We offer personalized inscriptions in block, italic, and cursive styles. These are executed by hand-guided treadle sewing machine. Short messages (names, benedictions, and so on) can be embroidered directly on 70/30 and 50/50 wraps (not 100% pashmina), but we prefer to embroider the silk edging on travel and baby blankets.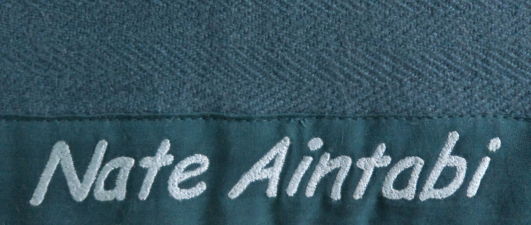 Above: Inscription on herringbone weave pashmina baby blanket

Above: Mother's Day inscription on pashmina shawl
Hand-stitched border and full-surface embroidery
Hand-stitched embroidery is available as an add-on to the 70% pashmina/30% silk and 50% pashmina/50% silk wraps in all regularly-available colors. Note that 100% pashmina shawls and mufflers cannot be embroidered or beaded.
To order, just select the fabric blend (70/30 or 50/50) and color on the "Order page, and when you get to the shopping cart, write a note in the Ordering Instructions textbox to indicate the desired customization.
Colors: You can order a shawl or scarf in any color you want (except bright white); you can order the embroidery in any color or combination of colors you want. If you want multiple colors, you have to specify what part of the design you want in each color (e.g, leaves = mint green; stems = camel; flowers = cobalt, cornflower, deep lilac, and light grape). Of course, you can use thread numbers or pantone codes for the colors instead of English names. You can request beaded accents, or metallic threads, but there is a [small!] extra charge for such customizations. All of these details can be specified in the Ordering Instructions textbox, or, if you prefer, you can email or call us with the details.
The provisional "receipt" generated automatically at checkout will reflect only the price of the base shawl. Payment is NOT processed for this amount. After we review your order, we will send you a purchase confirmation email with the actual price. Again, we will not process payment until you have had time to check our confirmation email and to notify us of any inaccuracy.
How to Order
First, go to the Order page. Click on the appropriate button to buy the size and blend wrap that you want. You will be instantly transported to the shopping cart.
When the shopping cart comes up, you will first read some very important blah-blah. (Don't skip this.)
Then, you will choose a shipping option
Near the bottom of the page, between the shipping option and payment type selection spots, there is an oblong box labeled Ordering Instructions. That's where you can type in the style and color of beading, embroidery, ombre, as well as jacquard, fringe-length, or any other issues such as delivery deadline, wording of personal message to be included, customs mitigation strategy, and so on.
Ranika: our newest full-surface embroidery design



Above: Ranika full-surface embroidery
Right: detail of Ranika embroidered shawl, comparing front (left) with reverse (upper right)
Embroidery options
Full-surface floral embroidery: Kanya Devi and Florata
Non-metallic thread (your choice of colors):

$65 supplement for full or medium size, $35 for mufflers.

Gold- and/or silver-colored metallic thread:

$85 supplement for full- or medium-size shawl, $50 for mufflers.
---
Floral border embroidery:
Non-metallic thread:

All four sides: $25 for full or medium size, $10 for mufflers.
Narrow sides only: $15 for full- or medium-size, $7.50 for mufflers

Gold- and/or silver-colored metallic thread

All four sides: $30 for full or medium size, $15 for mufflers
Narrow sides only: $20 for full- or medium-size shawls, $12.50 for mufflers.
Full-Surface Embroidery
Click on photos for more detail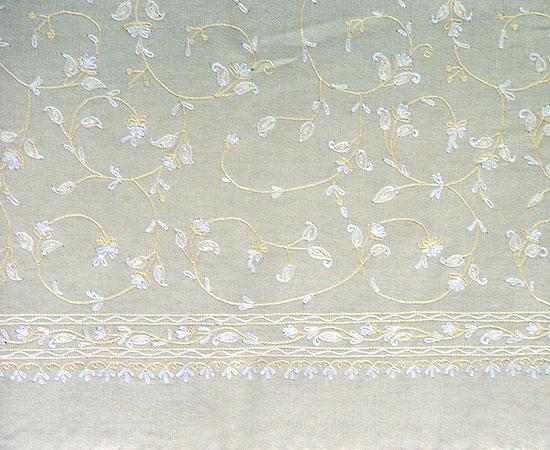 Kanya Devi
Above: Florata
---
Floral borders
Click on photos for more detail
Above: Emparata border, in gold metallic thread
---
[ Enough! I'm ready to Order ]
---
Sunrise Pashmina Internet distribution office:
511 W. Green St., Ithaca, NY 14850 USA
Call us at (607) 256-0102. Night or day.
If we can't answer immediately, we'll get back to you. Soon.
Or email us at info@sunrisepashmina.com