Color Options

Help on selecting colors
for fabric, embroidery, and beading.

See "How to Order Colors" in the Sidebar (right)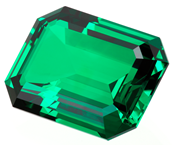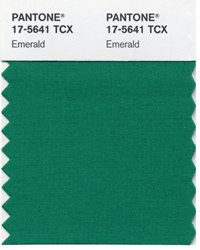 2013 Color of the Year!
This chart is widely used by dyers in Nepal. They don't have names for many of the colors represented by these thread samples -- and neither do we. However, you can simply refer to use the thread numbers that appear above each thread sample: select the thread color number from the pull-down menus after you order the basic wrap (by size and fabric) on our Order Page.
Click to go to the first page of our four-page Thread Color Chart .
The Color Chooser is a Sunrise creation, but, for the reasons noted in the disclaimer (see Sidebar, right), we're not crazy about it. This chart is limited to commonly requested colors that we can represent online with fairly good accuracy.
Pantone Fashion Colors for Spring 2014!
Here they are, with their Pantone codes. In the image below, the complementary colors are paired, from left to right:
TOP: Placid Blue (15-3920)
TOP: Hemlock (15-6114)
TOP: Sand (15-1225)
TOP: Cayenne (18-1651)
TOP: Radiant Orchid (18-3224)
BOTTOM: Violet Tulip (16-3823)
BOTTOM: Paloma Gray (16-0000)
BOTTOM: Freesia (14-0852)
BOTTOM: Celosia Orange (17-1360)
BOTTOM: Dazzling Blue (18-3949)



2013 Color of the Year: It's Emerald!
Radiant, jewel-toned Emerald promotes balance and harmony
CARLSTADT, N.J., Dec. 6, 2012 – Pantone LLC, an X-Rite company and the global authority on color and provider of professional color standards for the design industries, today announced PANTONE® 17-5641 Emerald, a lively, radiant, lush green, as the Color of the Year for 2013. The 2012 Color of the Year, PANTONE 17-1463 Tangerine Tango, a spirited, reddish orange, provided the energy boost we needed to recharge and move forward. Emerald, a vivid, verdant green, enhances our sense of well-being further by inspiring insight, as well as promoting balance and harmony.
Most often associated with brilliant, precious gemstones, the perception of Emerald is sophisticated and luxurious. Since antiquity, this luminous, magnificent hue has been the color of beauty and new life in many cultures and religions. It's also the color of growth, renewal and prosperity – no other color conveys regeneration more than green. For centuries, many countries have chosen green to represent healing and unity.
Green is the most abundant hue in nature – the human eye sees more green than any other color in the spectrum," said Leatrice Eiseman, executive director of the Pantone Color Institute®. "As it has throughout history, multifaceted Emerald continues to sparkle and fascinate. Symbolically, Emerald brings a sense of clarity, renewal and rejuvenation, which is so important in today's complex world. This powerful and universally appealing tone translates easily to both fashion and home interiors.
Emerald for Fashion
The prevalence of green has been steadily rising for several seasons, especially in the fashion and couture markets, and even on the red carpet. Appropriate for every occasion, Emerald's classic elegance makes for striking and irresistible women's formal and everyday wear as well as accessories. Emerald also makes a strong statement in men's sportswear, knitwear and ties. Fashion designers featured in the PANTONE Fashion Color Report Spring 2013, including Tracy Reese, Nanette Lepore, Barbara Tfank, NAHM and Marimekko, are incorporating Emerald into their spring collections. Balanced yet sophisticated, Emerald enlivens all colors in the spectrum and will continue to make a statement beyond spring and summer into fall and winter.
Pantone Top Ten Fashion Colors for Spring 2013
In the image below, the colors (with Pantone codes) are as follows:
Top row, left to right:
Dusk Blue (16-4120)

Tender Shoots (14-0446)

Lemon Zest (13-0756)

Linen (12-1008)

Poppy Red (17-1664)
Bottom row, left to right:
Emerald (17-5641)

Grayed Jade (14-6011)

African Violet (16-3520)

Monaco Blue (19-3964)

Nectarine (16-1360)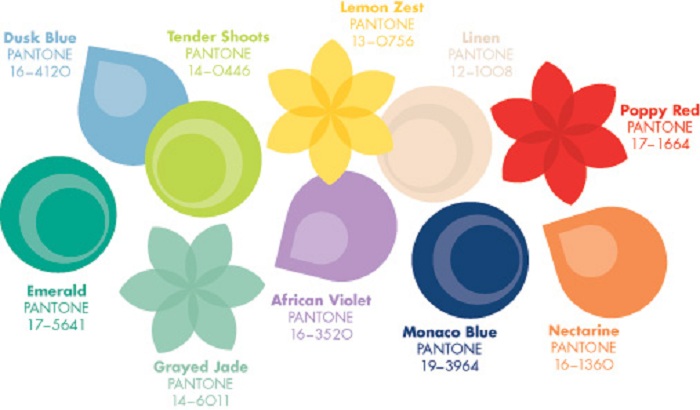 Here's what Pantone has to say about their newest color selections:
This season, designers overwhelmingly address consumers' desire for self-expression, balance and the need to re-energize. The color direction for spring builds upon these compelling needs with a palette that mixes dynamic brights with novel neutrals to create a harmonious balance. This allows for unique combinations that offer practicality and versatility, but at the same time, demand attention and earn an appreciative glance.
"The expression 'balancing act' is something we all relate to as we strive to find harmony in the frantic pace of our everyday lives," said Leatrice Eiseman, executive director of the Pantone Color Institute®. "The same can be said for fashion as we look for balance between light and bright, classic and new. This season's color palette emphasizes this need for balance, while at the same time allowing for individuality, self-expression and excitement."
The prevalence of green this spring is undeniable. Similar to the many shades in our natural surroundings, this season's greens offer a stunning foreground or the perfect backdrop for all other hues. Like the first signs of spring, Tender Shoots, a vibrant yellow-green, is invigorating, active and cheerful, while Grayed Jade, a subtle, hushed green with a gray undertone, brings about a mood of quiet reflection and repose. Sophisticated Emerald, a lively, radiant green, inspires insight and clarity while enhancing our sense of well-being. From one extreme to the other, combining all three greens presents an intriguing choice much like Mother Nature intended.
Exotic African Violet is a statement color that brings a touch of intrigue to the palette, as purples often do, and can be incorporated into many unexpected combinations. Try pairing it with exuberant Poppy Red, a seductive, sensual and celebratory shade. Whether it's a knockout dress or a kiss on the lips, every woman's wardrobe and beauty essentials should include this spirited, true red.
Nectarine, a bright, effervescent citrus orange with coral undertones, provides a tangy burst of flavor while cheerful Lemon Zest brings out a piquant taste with its refreshing, spritely greenish cast.
Signifying the time of day when everything starts to wind down, Dusk Blue offers a calming sense of serenity akin to its green counterpart, Grayed Jade. Both of these colors act as the season's newest neutrals. For an unexpected mix, pair Dusk Blue with the intensity of Nectarine. A warm neutral, Linen is light and airy, providing a nudelike basic that is a must have for spring. Try pairing Linen with Grayed Jade or Dusk Blue. Anchoring Monaco Blue is a classic shade that offers both stability and depth to the entire palette. Combine Monaco Blue with Poppy Red and Linen, or Monaco Blue and Emerald for a fresh collegiate look.
For over 20 years, Pantone, the global authority on color, has surveyed the designers of New York Fashion Week and beyond to bring you the season's most important color trends. This report previews the most prominent hues for spring 2013.
21st Century Pantone Colors-of-the-Year

2013: Emerald
(Pantone 17-1463)

2012: Tangerine Tango
(Pantone 17-1463)

2011: Honeysuckle
(Pantone 18-2120)

2010: Turquoise
(Pantone 15-5519)

2009: Mimosa
(Pantone 14-0848)

2008: Blue Iris
(Pantone 18-3943)

2007: Chili Pepper
(Pantone 19-1557)

2006: Sand Dollar
(Pantone 13-11060)

2005: Blue Turquoise
(Pantone 15-5217)

2004: Tigerlily
(Pantone 17-1456)

2003: Aqua Sky
(Pantone 14-4811)

2002: True Red
(Pantone19-1664)

2001: Fuchsia Rose
(Pantone17-2031)

2000: Cerulean
(Pantone 15-4020)
Pantone's Top Fashion Color Picks for Fall-Winter 2012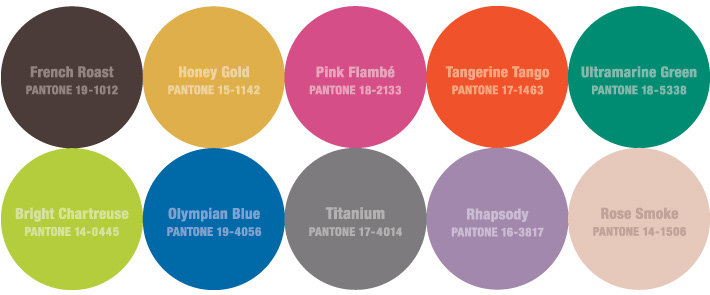 Pantone's Colors for Winter 2011: Still HOT!
You can order any of the Pantone Autumn-Winter 2011 colors by writing the name or the code in the text box after the menus at check-out. Or you can contact us directly by email ( info@sunrise-pashmina.com) or telephone (607 256-0102) to clear up any confusion.

Above: "Bamboo" (Pantone Code 14-0740)


Above: "Emberglow" (Pantone Code 17-1547)


Above: Color of the Year!!!
"Honeysuckle" (Pantone Code 18-2120)


Above: "Phlox" (Pantone Code 19-2820)


Above: "Cedar" (Pantone Code 16-0526)


Above: "Deep Teal" (Pantone Code 19-4914)


Above: "Coffee Liqueur" (Pantone Code 18-0930)





Above: "Nougat" (Pantone Code 16-1320)


Above: "Orchid Hush" (Pantone Code 13-3805)


Above: "Quarry" (Pantone Code 15-4305)



Sunrise Pashmina Internet distribution office:
511 W. Green St., Ithaca, NY 14850 USA
Call us at (607) 256-0102. Night or day.
If we can't answer immediately, we'll get back to you. Soon.
Or email us at info@sunrise-pashmina.com