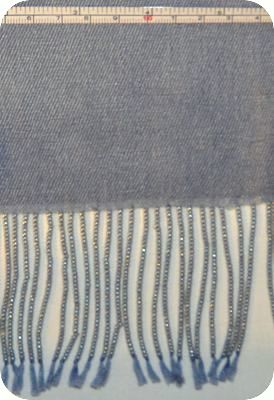 Spherical beads on straight 3" fringes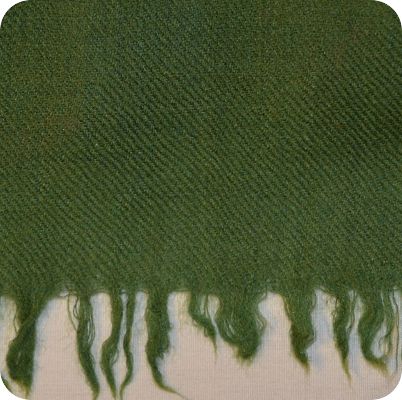 Twill weave with clumpy ragged edge, two increasingly popular options
Beaded fringes can add a blingy sparkle to an otherwise conservative wrap. The most popular style is straight 3" beading, either round or cylindrical.
Beading cannot be applied to 100% pashmina wraps.
Beaded fringes are available in two general formats: net beading and straight beading.
There is a $15 supplement for beaded fringes on full and medium size shawls, and $7.50 for mufflers.
How to Order Beading
To order beading, just select the fabric blend (70/30 or 50/50) and color on the Order page, and write a note in the ordering instructions textbox to indicate the desired beading style; be sure to specify bead colors. If you are ordering multiple bead colors, give specific directions for patterns.
Ordering Instructions Textbox? Where's that???
Okay, okay, this is a bit confusing.
First, you click on the link to buy the size and blend that you want. You will be instantly transported to the shopping cart.
When the shopping cart comes up, you will first read some very important blah-blah. (Don't skip this.)
Then, you will choose a shipping option
Near the bottom of the page, between the shipping option and payment type selection spots, there is an oblong box labeled Ordering Instructions. That's where you can type in the color(s) of the shawl, the style and color of beading, embroidery, ombre, as well as jacquard, fringe-length, or any other issues such as delivery deadline, wording of personal message to be included, customs mitigation strategy, and so on.
Note that the receipt generated automatically at checkout will reflect only the price of the base shawl, but you will receive a purchase confirmation email specifying the actual price of your order, including custom options. Please check it carefully and let us know promptly if there is any inaccuracy.
Net-beaded Fringes
Straight Fringes
Sunrise Pashmina Internet distribution office:
511 W. Green St., Ithaca, NY 14850 USA
Call us at (607) 256-0102. Night or day.
If we can't answer immediately, we'll get back to you. Soon.
Or email us at info@sunrise-pashmina.com